Make An Appointment
---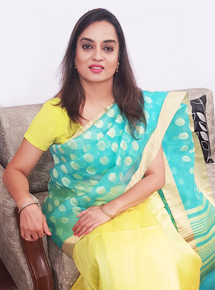 About Kavita Samsukha
Fashion & Lifestyle whiz
Kavita, our fashion & lifestyle whiz has years of experience in wedding costume and fashion design, as well as with private shopping and wardrobe styling clients. You will meet one-on-one with her to review your body type and lifestyle preferences. She will then show you how to dress to enhance your body contour and yet reflect your personal style. Learn what styles work best for your body frame.
Find out how specific pieces work well together that you might have never thought of.
Bring a friend and do a double session.
What could be more fun?
Personal Wardrobe Stylist
FAST, FUN & ZERO PRESSURE
From wedding and special-occasion looks to your work wardrobe to the perfect gift, our Fashion & Lifestyle whiz can help with everything...best of all, it's free!
How It Works
---
BOOK AN APPOINTMENT NOW
We offer a range of free appointment types, as well as customized appointments to fit your specific style needs.
01
YOUR STYLIST WILL CONTACT YOU
After you book an appointment, your Personal Stylist will contact you within 24 hours to learn more about your style, budget and goals.
02
YOUR STYLIST WILL PREP YOUR DRESSING ROOM
When you arrive for your appointment, you will experience a dressing room full of options put together just for you. Your Personal Stylist will offer suggestions and honest advice - even if you're only looking to research, not to buy
03
Indian Silk House has a loyal following of clients from all over the country that fly to Kolkata just to meet with our fashion & lifestyle whiz Kavita Samsukha for exclusive, personal attention with their wedding wardrobe and style development. Our mission is to bring out the full aesthetic of our customers, according to their lifestyle or wedding need. We understand that each client is unique so we custom tailor clothing, accessories, gifts and more, all in one place to meet the needs for all of our clients.
Get In Touch Your Way
---
Whatsapp
let's chat one-on-one!
Email
got question? send us a note.