5 Budget Friendly Wedding Venues in Kolkata
By admin On November 25, 2017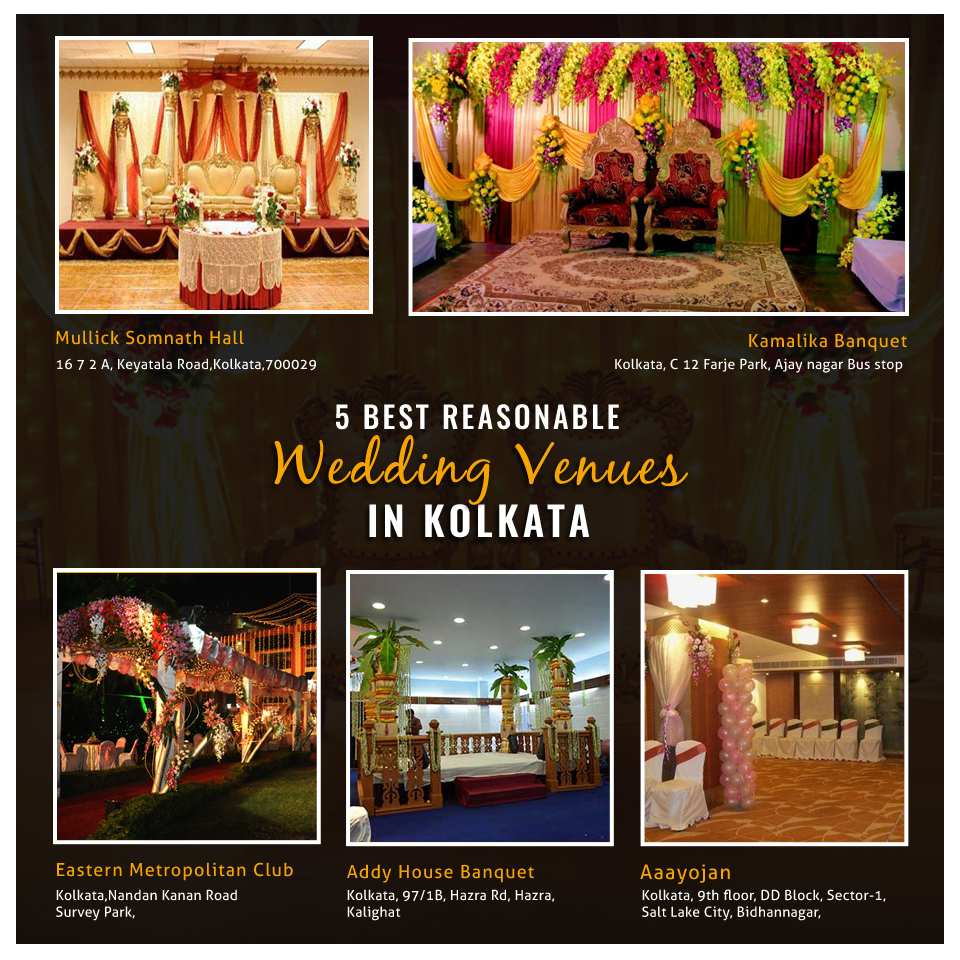 Weddings are special. It is all about making the most important moment of your life a memorable one. Weddings can get expensive. It is all about how exactly you intend to frame your wedding memories. If sky is the limit for you then you would probably not have to think much about the prices. This way, you get to do all what you have always dreamt about. However, not many people can afford a lavish wedding ceremony and thereby they have to stick to their budget. It is not only about online saree shopping or buying exclusive jewelry but also about giving shape to a beautiful wedding dream. Arranging perfect wedding venues is also necessary.
Setting a budget is always important as that way you will know your limit and plan everything accordingly. When it comes to planning a budget friendly wedding, you need to make sure that everything is planned properly. For the bridal sarees, you can choose to pay a visit to the esteemed Indian Silk House Exclusives. It is a 92 year old organization that has been offering exquisite sarees for all purposes at pocket friendly prices. You cannot give this is a miss.
These days, everybody loves to buy online. For them, you can easily check out jewellery collection, wedding trousseau and all other stuff by browsing through the online portals. You can also purchase online saree from the saree portals.
What does bug the most in the wedding traditions? Is it the choice of sarees, jewellery, food or the guest list? Each one of these things will get sorted out with time but the one that is really most important is to select the perfect wedding venue.
Nowadays, everywhere you see, there is a giant banquet hall available just round the corner. The more they look furbished and decorative, the more expensive they happen to be. Moreover, it is just not about renting the venue for a day. A wedding venue is associated with proper decorations, flowering and lighting. If your venue is not well-lit or well decorated, it would not look attractive. These are the things that always tend to raise the budget. In order to make sure that you do not have to spend a penny more than what you have decided upon, all you need to do is to start hunting down a wedding venue that is within your budget limit.
The City of Joy is always known for throwing a large number of lavish wedding bashes. This is the city where the elites often choose to hire five star villas and hotels for wedding purposes. However, if you do not intend to throw a lavish wedding bash, you can look out for the reasonable wedding venues that you can get in plenty. In fact, Kolkata is one of the few cities in India where it is indeed possible to find both reasonable and expensive wedding venues. Depending upon your budget limit, you can look forward to select your wedding venue. There is absolutely no dearth of cheap and budget friendly venues where you can wed or throw reception parties in Kolkata.
5 Budget friendly wedding venues in Kolkata
Some of the most popular budget friendly wedding venues that you can look forward to select in Kolkata have been listed below:
Mullick Somnath hall: This one is located at Gariahat and you can surely consider checking this out if you stay in South Kolkata.
Address: 2, Keyatala Rd, Hindustan Park, Gariahat, Kolkata, West Bengal 700029
Phone:  033 2464 1621
Kamalika Banquet: This one has its base in Ajaynagar near Tollygunge. This is another South Kolkata venue that lets you stick to your pre-determined budget.
Address: C-12, Survey Park , East Jadavpur Rd, Ajoy Nagar, Mukundapur, Kolkata, West Bengal 700075
Phone:  094333 81085
Eastern Metropolitan Club: This is located in Santoshpur and is a spacious venue for wedding arrangements.
Address: Santoshpur, Kolkata, West Bengal 700001
Phone:  033 3243 4373
Addy House Banquet: It is based in Hazra and is one of the most amazing wedding venues in Kolkata.
Address: 97/1B, Hazra Road, Hazra, Kalighat, Kolkata, West Bengal 700026
Phone: 098311 14334
Aaayojan: Those who are staying in Salt Lake City can look forward to throw their wedding bases at Aaayojan that is based at Sector 1.
Address: DD 30, 9th Floor, Sector 1, Salt Lake City, Kolkata, West Bengal 700064
Phone: 033 4019 0000
One response to "5 Budget Friendly Wedding Venues in Kolkata"