5 sarees that my husband picked from my closet for my office
By admin On May 24, 2017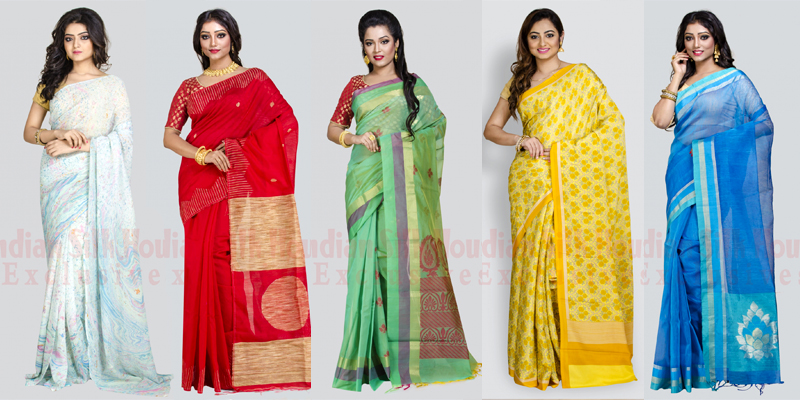 We should not underestimate men's fashion sense. Given a chance, they can prove their fashion sensibilities. All you need to do is to trust them and they will not disappoint you. To tell you the truth, I was a bit skeptical a few days back when he asked me to wear his chosen sarees at work for a week. All of these started when we had a short tiff over fashion. The fight continued for a few hours before I reluctantly gave in to his demands.
My idea behind giving in was to save myself from the pain of spending time wandering about what to wear to work. No matter how many sarees I own, I always feel fussy and confused. I was happy when he insisted to choose sarees for each working day. I thought that would be of a big help and I half-heartedly agreed to his proposal.
I would not lie but I was equally terrified from within as I definitely did not want to go to work looking like a clown. However, things turned out to be quite exciting.
I should mention this in the beginning that I am a silk saree freak. Although I wear western attires, I believe nothing more can do justice to any Indian woman's body other than the graceful six yards. I love sarees and also love those who shower me with them. Hence my husband, I believe had to go through a lot of pressure while selecting the best as well as the most appropriate sarees for me from the plethora of sarees that I own in my closet.
What happened next will make you convince your husband to try out the 5 days' Experiment on you.
My entrepreneur husband locked me out of our room on one fine Sunday evening and sent me away to my BFF's place to have a girly party. No, he didn't cheat on me but what he did actually made me fall for him all over again. All these years, he has observed the colors, patterns and styles that work on my body and he put all his observations into giving me a look that made me go CRAZZYY (read for him, of course).
Day One:
It's the Monday, beginning of the week. Here I am slowly making my way into my bedroom to finally get dressed for work. A part of me was hinting me not to trust his fashion sense values and pick up something of my choice and then there was the Indian wife in me who wanted to have faith in her husband's choice and intended to stick by him. As I entered the room, I saw my always-so-busy husband sitting on the sofa and waiting for me. He walked towards me and carefully handed me a beautifully wrapped box with 'Monday' written on the top of it.
Smitten over by the way he surprised me, I ran straight to the changing room and carefully opened the box. To my surprise, I found a beautiful white colored saree that I have not worn for several years. I also remembered the fact that I was wearing the same saree the day I came to his place for the first ever time to meet his mother. Memories of our love life flashed before my eyes and I felt overwhelmed.  The box did not only have the white Chiffon saree but also some matching accessories that went well with the attire. I wore the saree, showed it to him and he was impressed.
Product Code: Z15756
Day Two:
After the great response that I got at work when I told my colleagues about my husband's fashion sense, I was really looking forward to Tuesday. That day, my gift box had a red saree. Now I understood that my husband is sticking to the Color Therapy. Smart, I thought of him and appreciated his attitude.
The red Fancy Cotton saree was amazing. I do not even remember if I have worn this scintillating saree ever before. How can I not wear this saree for all these days?  I remember to have bought it from Indian Silk House Exclusives a few months ago. An elated version of me quickly started wrapping the six yards as I was obviously quite eager to show everyone at work what my husband did for me today.
Product Code: Z16986
Day Three:
This time I knew, he would pick me a green saree and I was curious about the one he would actually select for me. Nevertheless, a curious me went inside the room and collected the box that was given to me. I was taken aback to find that my Never-Have-Time and Go-Shop-Yourself kind of husband has actually gone shopping to buy me a beautiful green saree. Later he told me that he bought this one from my favorite saree store in Kolkata, Indian Silk House Exclusives. The Cotton Silk Woven Saree was quite charming and it looked good with the silver oxidized jhumkas that he got for me.
Product Code: Z16143
Day Four
Thursday is the Color for Yellow. No he did not buy me a yellow saree again but surprised me with a Pure Crepe saree in yellow that made me look slimmer and trendier. My colleagues from work went gaga over my saree. My husband, this time also took special interest in buying me matching yellow slippers. I was all yellow on Thursday and I simply admired my husband's sense of fashion.
Product Code: Z13497
Day Five
By Friday, I was totally determined to make my husband select all my dresses. No matter where I go, he will be selecting my saree because I never get to find the one that suits me. That day, he made me wear a beautiful blue hued Linen Saree that was the best in terms of beating the summer heat. I felt comfortable throughout the day and it was actually quite amazing to wear something that your husband selects for you.
Product Code: Z16242
Overall, I trusted my husband with his choices and he did not disappoint me. I feel every married woman should indulge into these kinds of activities with her husband. This will not only make your bond stronger but also you will look different and beautiful as someone has rightly said ''Eat what you like but wear what others like''.