5 worthy styling tips for every Indian summer bride
By admin On June 25, 2019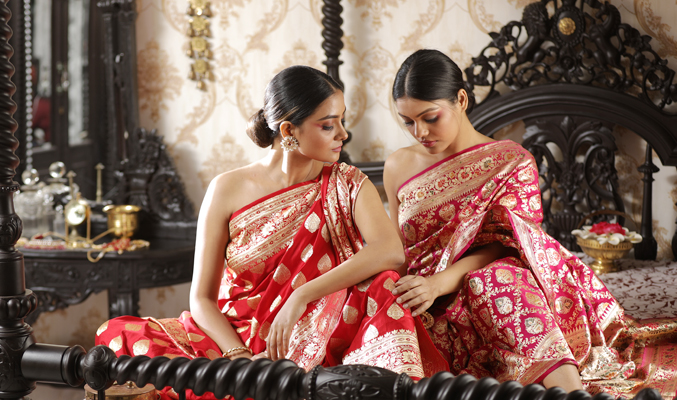 India is a land with diversifying culture, language and weathers. Being in such a widely-known vibrant nation, be sure to experience the three predominant kinds of weather namely, summer, monsoon & winter.
The first one, a metaphor to everything bright and shiny, comes along with its own pros and cons. Although fresh juicy fruits, chilled coolers & frozen dairies seem to be the usual indulgence, you'd have to go through a sweaty & humid climate during the daytime, unless you are confined within a comfortable AC room.
In that case, what about a summer wedding?
Bounded by regular chores one would need to step out and hit the road on a sultry sunny afternoon and bear the scorching heat. But getting married during this season is surely not a comfy task, even if it's a night wedding or an indoor one. Especially, for the bride.
From making countless sacrifices in her diet, to regularly visiting the best parlour in town, to even taking up yoga or pilates to maintain her natural glow, a bride does everything to ensure that she looks perfect on her D-Day. A hot & sweaty summer day cannot possibly rule that out, can it?
Tips you cannot do away with for the perfect summer wedding
So, dear bride, you need to look at those challenges in the eye and tell them to buzz off because here we are with a few simple yet effective styling tips to let you own your wedding day like a queen. So, sit back, sip in your fave chilled mojito and read on!
1) It's the Dress
As the famous Indian fashion designer, Varun Bahl rightly puts in an ET column, "I always tell my brides that they shouldn't be swayed or blinded by trends. It is extremely important to wear something that is true to your personality, style, and sensibility, and at the same time factor in comfort as well – if you're uneasy in an outfit, it is bound to show."
So, it's a no brainer that you should ideally stick to fabrics which are breathable and comfortable. Whether it's the bridal lehenga or for other occasion choosing fabrics such as chiffon, georgette, cotton, organza, chikankari and rayon which are lighter and cooler should be ideal for you. In which case, if you are somebody who likes to be draped in a saree then we recommend that you choose from silk, tussar, khadi, cotton or kota fabrics.
2) The makeup that's right for you
Now that you've got some clarity on the kind of fabric you should opt for for your big day, here are some important tips on the makeup front (that BTW most of our brides say they prefer these days).
Gone are those days when a bride would like to look the brightest and "fairest of them all". These days most brides are going for the minimal makeup or the nude makeup look. It not only is the latest fad but also a ruling trend for summer brides.
In any case, other than looking heavy on your face, the cakey makeup may get ruined due to the heat and humidity. Therefore, waterproof makeup with a matte finish is your go-to girl. Choose colours that suit your skin tone too.
3) Lighter Jewellery
Unless you are planning for a wedding that's set on a scenic foreign land with the perfect temperature (as that of Virushka and Deepveer), you, my dear, should keep in mind that a heavy jewellery set may make you feel a tad uncomfy. Therefore, we suggest that you avoid that heavy ornate look and go for something minimal. If your dress is stunning, believe us, that would do the talking.
4) The dupatta
When it's already clear that summers mean minimalism, it shouldn't be a tough choice to go for a dupatta (or two, if you'd like) that's lighter in weight and well-pleated.
5) Be the Happiest
Although this isn't exactly a stylish tip, surely an unmissable tried & tested point to get the perfect glow oozing out on your wedding day. Because trust us when we say that nothing looks more depressing than an unhappy bride. Whether you know it or not, it shows. A happy bride is the star of the night. So, ensure that you are in the right mood, surround yourself by your soul-sisters cum bridesmaids, and of course your loved ones. In the end, just let go and have fun. Keep yourself hydrated, have fruits and light meals.
Did we miss out on any important tip? Feel free to email us at info@indiansilkhouse.com