8 Gorgeous Varieties of Indian Handloom Silk Sarees
By admin On October 6, 2015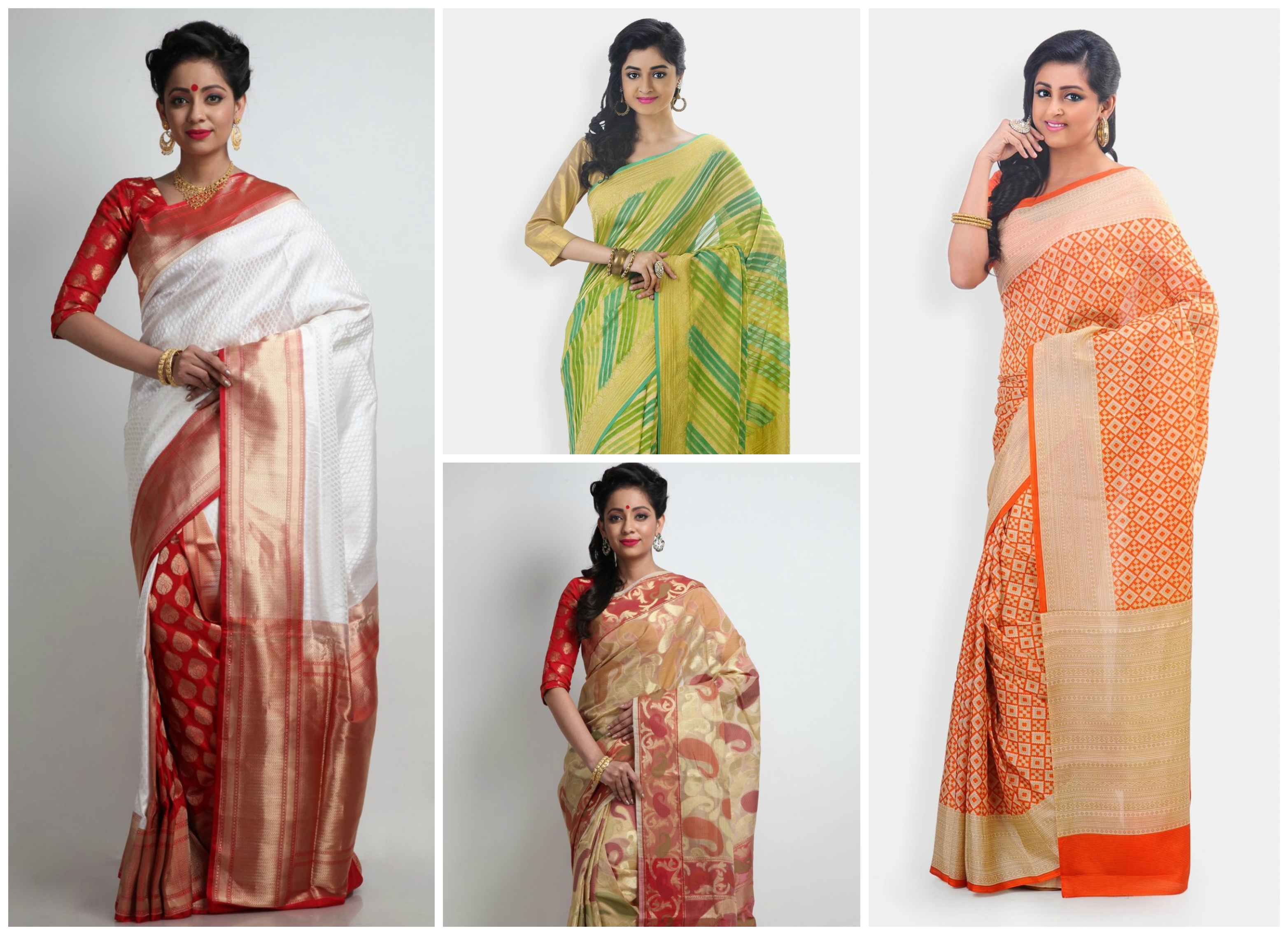 Indian women are widely known for wearing sarees and this attire has been one of the indispensable parts of Indian tradition from ancient time to modern days. Indian women prefer to wear classic sarees on every auspicious occasion and with the emergence of fashion domain, many changes in the technique of producing sarees have been made. However, due to its quality and elegant design, Indian handloom silk sarees have become one of the most preferred attires for Indian women. In this article, you will have a glimpse of some top Indian handloom sarees.
Banarasi Handloom Silk Saree:
Banaras is a part of the country which produces one of the most extravagant sarees all over India. As Banarasi has always been the first preference for Indian women, especially on the wedding. Banarasi silk sarees are widely popular for their intricacy in work of zari and resham. Bright and colorful dyeing of the best quality silk fabric is one of the notable features of Banarasi handloom silk sarees.
Chanderi Silk Sarees of Madhya Pradesh:
The heart of India is very popular for chanderi handloom sarees. The unique shades with elegant designs make it a class apart. The saree offers soft and airy feel to the wearers and it is mostly known for its soft texture, butis and pallus.The fashion designers, these days are showing interest in Chanderi sarees and have taken this classy weave to the ramps.
Bandhani Sarees of Gujarat:
This saree from the western part of India deals with the traditional art of tying and dyeing. There are three types of Bandhani sarees available in India, which are Garchola, Lehariya and Panetar. The most important thing about these sarees is that all of them offer a colorful look and depict the specialty of delicate Gujarati design, which is unique among many Indian handloom silk sarees.
Baluchari Handloom Sarees from West Bengal:
This saree is made with a handloom weaving technique and offers mesmerizing look with specially created mythological motifed six yard draping. The saree is designed with finest work in resham or zari. The golden zari woven Balucharis are called Swarnachari. Throughout the Pallus it often depicts local stories or events from the epics.
The Munga Handloom Silk Sarees from Assam:
These sarees from the North- Eastern part of India reflects the cultural aspects and has its own identity across the country. The most notable feature of the saree is that it offers three-dimensional effects and attached woven borders.
Patola Handloom Sarees from Gujarat:
The Patola Sarees are traditional Gujarati Handloom products and widely popular for exemplary design and ethereal patterns. These sarees are woven by highly experienced weavers and a special type silk called Patotal is used to produce the saree.
Uppada silk sarees from Andhra Pradesh:
These are finest and lightest silk sarees from Uppada, Andhra Pradesh, and East Godawari District, India. The weaving pattern is jamdani type and zari used is pure. The designs of uppada silks are claasy and colors are vibrant.
Kanchpuram sarees:
Kanchipuram Sarees are the most popular sarees in the south and the sarees are quite famous for its Zari work and elaborate design. Sarees that are made with golden and silver thread considered perfect for bridal wear. Mysore Silk Sarees, Kasavu Sarees and Uppada Sarees are also popular in South India as well as across the country.
The essences of Indian handloom silk sarees are based on regional tradition and culture and it can easily be segregated in several classes, as each type of saree demonstrates special features and uniqueness on its own way.