A Match Made in Heaven!
By admin On February 26, 2020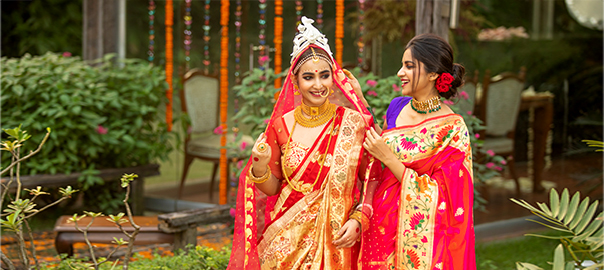 Wedding Day is not just the best day of the bride's life but also the groom's. The couple celebrates their love, their companionship and the beginning of the rest of their lives together. Most people leave no stone unturned to display their love and truly so. A trending way to do so is matching outfits for the wedding shenanigans. From your classic original silk sarees to your bright lehengas, there are multiple creative ways to match outfits!
Same Colour, Different Hues
The bride and groom can choose the same colour but use different tones of it for the sangeet. A fuschia pink Baluchari silk saree for the bride and a baby pink Bandhgala for the groom can help them be on the same page and yet not look completely coordinated. This can easily be done in different pastel shades of blue, green or even lavender.
Subtle Prints
For the Mehendi, floral prints in bright colours work best. The bride can opt for a solid silk saree with a printed dupatta or even a completely printed saree that's worn like a lehenga while the groom can choose a Nehru Coat in a similar print or just take a printed dupatta over a solid kurta in the same tone.
Contrasting Hues
Another way to keep your outfits matching but not wanting to look like the absolute same would be to choose contrasting colours. Picking colours that complement each other and don't stand out works. Using elements in neutral colours like beige, white and black helps to easily contrast your outfits.
Same Embellishments
If you like to keep it minimal, a lot of couples tend to opt for one similar or same factor – the colour, the fabric or even the embroidery or motifs. Matching one such element leads to avoiding too much bling and yet maintaining a certain similarity in the outfits of the bride and groom.
The Perfect Match
Apt for the cheesy couple fond of PDA, going for the completely coordinated look is a bold statement & displays the love that the bride and groom share with each other. The bride can choose a Kanjivaram silk saree in her favourite shade and the groom's outfit could be made of the same fabric.
Matching your bridal attire with the groom can be tricky but if you manage to pull it off, it can make you look like a million bucks in pictures and memories that'll last forever. Silk sarees never go out of style and make for the classic bridal attire. Choose from the trendiest and best of sarees on www.indiansilkhouse.com and find a saree that matches your love story!