A Thing of Beauty – Jamawar Fabric
By admin On January 15, 2020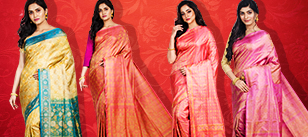 Jamawar is a special piece of shawl that has its roots in Kashmir. Jamawar comes from two words 'Jama' meaning robe and 'War' meaning chest. It is made from Pashmina. The colours of nature are skilfully captured in this cloth. The Jamawar fabric is one of the most exquisite and beautifully designed textiles of India.
Origin
The Jamawar fabric reached India around 500 years back. It travelled from Persia to Kashmir and reached its crest during the Mughal reign. Mughal Emperor Akbar's patronage gave way to this fabric in India. Akbar is said to be so fond of this fabric that he brought over weavers from Arab countries and had them settled in Kashmir.
History
Kings and nobles bought the woven fabric wearing it as gowns or using it as shawls. In the Mughal period, this fabric became a sign of the elite, making the Jamawar workshops flourish. Most of the designs in the Jamawar fabric were floral, with the kairy or paisley as the predominant motif.
Earlier, it took about a year to a decade to weave a single shawl. Since the Jacquard loom was introduced, the time and cost to produce this fabric reduced, making it more affordable for people of different classes.
The Cultural Blend
India in itself is a very diverse and secular nation. It is important to remember how different traditions and cultures have made up the Indian culture. The Jamawar fabric and especially the shawl, reminds us how the Islamic traditions have exquisitely enriched our country.
Trend and Styling
Traditionally, the Jamawar fabric was used to make shawls, but now it is also used in making sarees, Kurtas, and lehengas. The intricacy of this fabric has grabbed the attention of fashion designers who have incorporated the designs in party wear outfits too.
Styling these beautiful masterpieces with heavy jewellery would kill its look. It would be suitable for bridal ensembles. For special occasions, it is best to stick with one or two pieces of classic Indian jewellery such as Kundan.
To view our classic collection of Jamawar sarees, drop into our store or view online on www.indiansilkhouse.com.