Age is No Barrier for Dressing Up!
By admin On September 12, 2019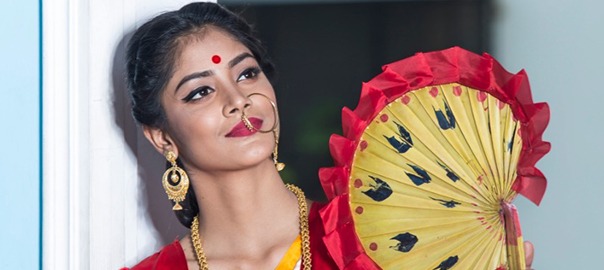 How many times have you picked up a bright neon saree, just to be chided by others about being immature, childish or choosing colours that are meant for kids? For some reason, when it comes to dressing up, people tend to segregate colours, prints and designs based on age, gender, body type and what not! When it comes to silk sarees, the same applies.
Older women are expected to drape 'sober' colours with a touch of pastel. Bright colours like neons, purple, orange, etc. are avoided as they may across as immature or too loud for a certain age. In fact, even for certain situations or occasions, bright colours are avoided, especially for formal meetings or office wear.
Who sets these rules? While sometimes, adhering to a dress code makes sense, factors like age, gender and size should never be a reason to refrain someone or force someone to not wear what they feel comfortable in and like. So be it the brightest of colours or the funkiest of prints, don't shy away from wearing just what you want!
Shine Bright
Not having a great moment? Choose bright colours and watch yourself feel better instantly. Studies say that adding bright colours to your wardrobe can help beat the blues, especially in the gloomy winter months. Try this bright yellow Dhakai silk saree on a low day to feel as bright and lovely as you are!
(Product link: https://www.indiansilkhouseexclusives.in/Saree/Dhakai/Dhakai-Saree-p4301c59c124)
Bring on the Neon
Neon is the kind of trend that never goes out of style. There's no wrong time to ever pull off neon. If you don't want to go all out, adding a subtle touch in the form of a scarf, bag or even earrings can jazz up your outfit and mood. If you're not sure about going all neon, try some different shades first. This parrot green South silk saree with booti and zari woven border is a must-have in your wardrobe for family functions and gatherings. (Product link: https://www.indiansilkhouseexclusives.in/Saree/South-Silk/South-Silk-Saree-p4311c59c110)
Printed with Love
Prints can liven up any simple outfit. Be it big or small, modern or folk, abstract or traditional, prints add a different touch to sarees. Many times, older people refrain from going for bold or abstract prints as they are thought to be more suitable for the younger crowd. This Tussar saree with a folk print and flat border is ideal for rocking the print at any party. (Product link: https://www.indiansilkhouseexclusives.in/Saree/Tussar/Tussar-Saree-p4222c59c88?page=5)
Go Big, Go Bold
Bold colours or prints are often avoided by anyone who prefers dressing up a little conservatively. While it may seem risky to experiment with such colours out of the blue, such colours and prints look great on women of all shapes and sizes. Try this printed silk saree in bold magenta pink for a day to night look for a busy weekday. (Product link: https://www.indiansilkhouseexclusives.in/Saree/Printed-Silk/Printed-Silk-Saree-p4195c59c85?page=6). Defy the standards set by society and break free of the mould created based on segregation of age, gender, size and everything else. Flaunt what you have, as you feel in sarees that make you feel confident in your own skin. For more of such sarees that suit you and your personality, visit www.indiansilkhouse.com and shop for sarees you'll truly love.