Benarasi Saree in Vogue for Brides
By admin On December 28, 2015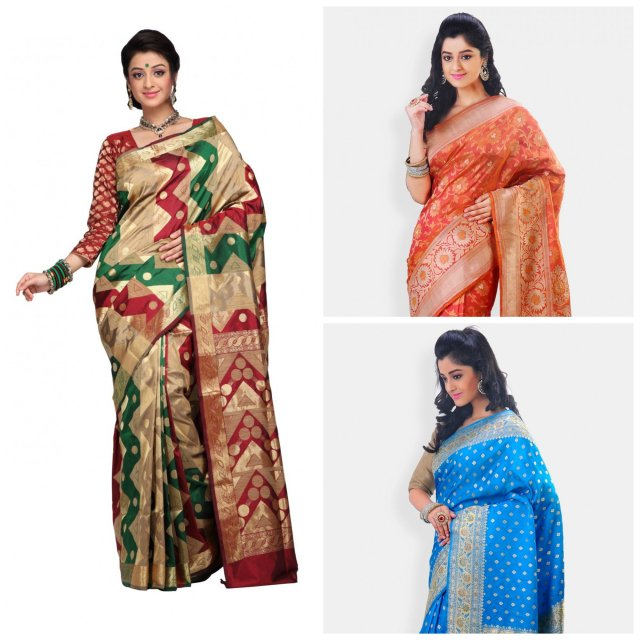 The gorgeous saris from Varanasi speak of the splendours of their weaving techniques. A Benarasi sari, a generic term which covers the range of exquisite saris and weaving techniques of the region has long been a favourite of Indian women when a festive occasion or a wedding comes up.
Types and textures
The accumulation of skills allowed the weaver in the region to create unrivalled textures. Thus single yarns are used in warp and weft for gauzy effects. Plain and unbleached cloth with metallic yarn are used for Tissue saris while twisted warps and other combinations arre used to create varieties of heavier saris like Satins and Tanchois. The Jamdani technique is where the weaver bends over a loom working with tiny spools of thread to create intricate patterns. Satin, katan, brocade, tissue, crepe, organza and other fine materials are all varieties of Benarsis depending on the types of designs, intricacy of design and kind of thread used.
colors in vogue
Red or a maroon silk Benarasi is the first choice for bridal wear. Various shades of pink like strawberry, magenta, gajri are the next preferred colors for a bridal saree. Royal blue, Rama green, peacock blue or a rust is in great demand for reception wear. When you go  for Benarasi silk sarees online shopping, you will get less confused about what you want to buy, because all the information and details about the best Benarasi saree and its varoius types is available online with a single click while little color distortions/ variations due to the computer screens are acceptable.
Discounts
There are discounts and offers available for all kinds of sarees for brides, including the one with heavy works from time to time. Even if you want to buy something that has an intricate work, you don't have to be disheartened, because there are online portals like www.indiansilkhouse.com selling these sarees with authentic and original weaves at best rates. If you want a genuine quality silk at best prices you can blindly trust ninety year old  Kolkata brand Indian Silk House which has now online presence also.
Worldwide shipping
If you want to buy a bridal saree for your friend, sister, or a relative living abroad, you can choose a saree and ship it to their address buying them online. A few online retailers like www.indiansilkhouse.com also give the option of crafting a customized blouse based on the measurements you provide. You can get a beautiful blouse along with the saree in the design of your choice, when you place an order online. The terms and conditions of the online retailers selling sarees will give you an idea in the numbers of business days the item selected will be delivered.
Customer care
When you place an order online, you will get an acknowledgement about the complete order on your mobile or the email id. You can track the delivery of the item selected and get an idea about when it will be delivered to the destined address. The friendly customer care  team will answer all to your queries and give you a quick response of your queries. If you feel the need to exchange or return the order, you can contact the customer care or mail them about the procedure to do the same.