Best Five Traditional Sarees Of India
By Kavita Samsukha On June 15, 2021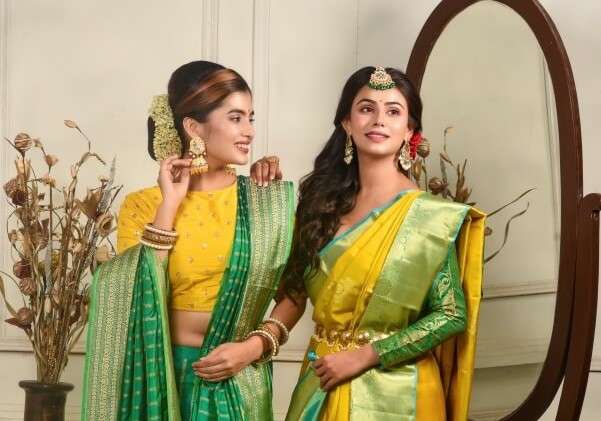 Saree is a representation of our country's customs and cultures. The magnificence of a saree is unparalleled. There are numerous types of weaving styles handmade in various parts of India. India is famous for its rich heritage of textile weaving. Indian Silk House Exclusives, in Kolkata are the Best Saree Shop and all types of traditional sarees are available in its collection.
Let's explore the famous five types of traditional sarees and the names that will remind you of the wardrobe of your mother. The common factor in these heritage weaves is the ability to adapt and accommodate every change and influence it encountered down the ages in the diverse parts of the subcontinent. They all speak about the unparalleled skills of master weavers and craftsmen and the unmatched beauty of various saris from different parts of the country.
Kanjeevaram Saree – Vivacious colors, royal borders, and rich silk give Kanjeevaram Saree an ornate aura. Hailing from Kanchipuram town of Tamil Nadu, these are considered India's most resplendent sarees. They are ideal for formal and ceremonial occasions. They are weaved from pure mulberry silk yarn of denser count interwoven with zari giving it a characteristic lusture. The main feature of this saree, the solid color contrast of the border and pallav is produced through the Korvai method of weaving.
Bomkai Saree –  Another variety of saree woven in Odisha is the Bomkai sari. Bomkai saris feature intricate thread work, ornamental borders and Pallu. They also have touches of Ikat like Sambalpuri sari. Both cotton and silk are used for Bomkai sari. They have a natural elegance and look and feel contemporary, yet the patterns are profoundly steeped in the culture. The Bomkai sarees bear sophisticated motifs like Kanthi phoola( small flower), karela (bitter gourd), rukha( pestle stick), dombaru( small hourglass-shaped drum), peacock and fish.
Chanderi Saree – The uncluttered glory of this Madhya Pradesh Saree is excellent. The light, airy sari with the delicacy of sheer gossamer combines the qualities of cotton and silk which makes it suitable for celebrations and festivals especially in the summer season. The motifs woven in these saris have a local as well as Mughal influence and include symbols like gold coins, swans, trees, flowers, fruits etc. Silk Saree Collection at Indian Silk House Exclusives in Kolkata has this kind included because of its popularity.
Baluchari Saree – A traditional and gorgeous Baluchari sari that originates from the village of Baluchar in Murshidabad, West Bengal has the potential to become a family heirloom even today. They have elaborate narrative depicted in the borders and ornamental pallu. Traditionally the motifs of these sarees were based on mythological themes and Puranic tales or legends of Mahabharata and Ramayana. The details and elaborate designs of Baluchari sarees make them unique and instantly lovable.
Benarasi Saree – The gorgeous sarees from Varanasi speak of the splendors of their weaving techniques. A Benarasi sari, a generic term that covers the range of exquisite sarees and weaving techniques of the region has long been a favorite of Indian women when a festive or a marriage occasion comes up. There are many popular varieties of Benarasi sarees like Brocade sari, Jangla sari, Silk Jamdani, Tissue sari, Tanchoi, Butidar sari and so on. This is today the most sought-after weave and all its varieties are available at Indian Silk House Exclusives.
Indian Silk House Exclusives, at P 92 Lake road is the best saree shop in Kolkata which not only caters to the high taste of Kolkatans but has drawn patronage from all over the world through their website www.indiansilkhouse.com. Thanks to the digital era. Even if it moves with time, the values transmitted through the generations remain to make up the soul of an organization.