Check out the PoilaBoishakh special Silk Saree Collection in Kolkata only at Indian Silk House Exclusives
By admin On April 11, 2022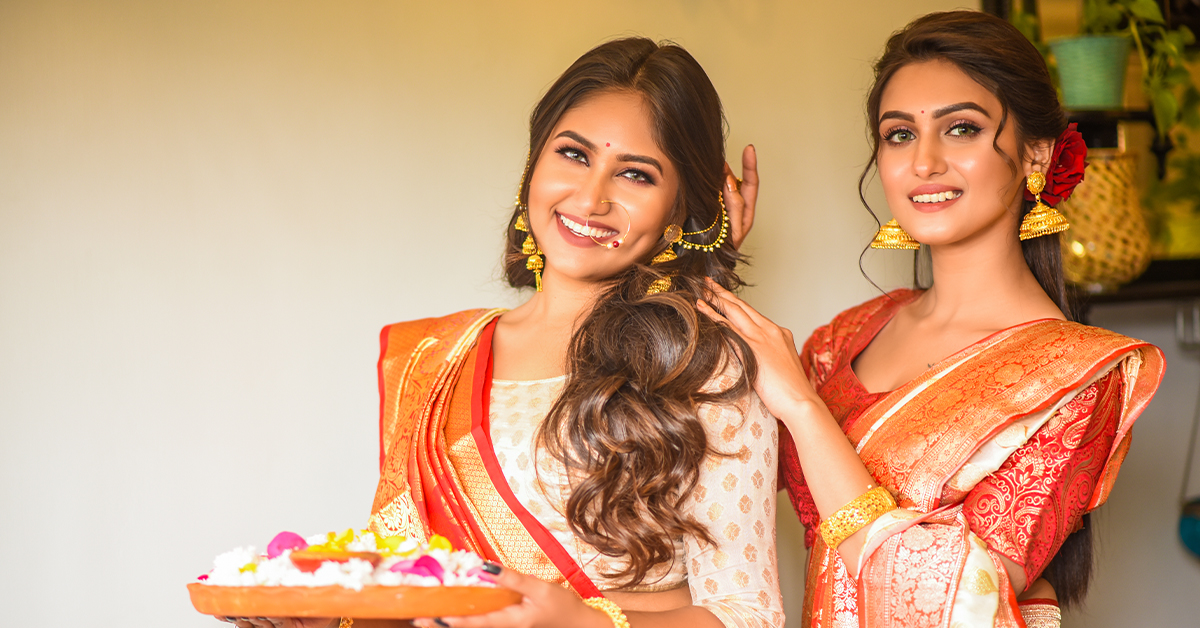 PoilaBoishakh is celebrated as the Bengali New Year or NaboBorsho . Every year on this day, every Bengali family gets up early in the morning to take a cleansing shower and then put on brand new clothes. The most important component of being Bengali is the custom of wearing new garments, traditional Bengali apparel, before going to a temple or just seeking the blessings of your elders. Wearing new clothes is a ritual as we believe if you look nice, you will feel good. The kurta (or Panjabi)-pajama for men and sarees for women are the traditional Bengali outfits. Every year on the 14th or 15th of April, the streets will be inundated with gleaming smiles, gorgeous women wearing traditional sarees meticulously weaved in various districts of Bengal. To doll up this NaboBorsho, you have to check out the Silk Saree Collection in Kolkata by Indian Silk House Exclusives.
The Choices of Sarees:
Many sarees can be worn on PoilaBaishakh, and some of them are listed below to help buyers in making a unique selection of sarees for this PoilaBaishakh.
The Tussar Silk Sarees:
Many females who want to seem ethnic in NaboBarsho choose Tussar silk sarees. Tussar silk sarees are famous for delicacy and rich texture in today's fashion industry. These sarees touch every layer of silk fabric with a blend of the finest threads and the greatest weaving method. Tussar silk sarees are distributed all over the world with a creative flair. These are long-lasting and have their dull golden luster. Tussar silk sarees are often embellished with bold motifs and fine embellishments. Several designers are working on this saree to respond to each individual's preferences. So it's no surprise that fashionable ladies are wearing Tussar silk sarees to celebrate PoilaBaishakh specially made in Varanasi handlooms and some fine Tussars made in Madhya Pradesh.
The Bomkai Silk Sarees:
Another traditional saree from Orissa is the Bomkai silk saree, which is being worn by many elegant for PoilaBaishakh this year. Bomkaisarees are for special occasions, and PoilaBaishakh is a major social and religious event for Bengalis. As a result, it's only logical that they'd choose this saree. The colors of bomkaisarees are vibrant, and they offer the wearer a graceful appearance. Fish, according to legend, is a symbol of prosperity and success. The border and pallu of most bomkaisarees include a fish motifs. This saree has a class and a woven exquisiteness. Elegant ladies choose Bomkai silk sarees for a sober and classic look on this NoboBorsha.
The Linen sarees:
Linen sarees have just made a triumphant entry into the saree fashion arena. On this PoilaBaishakh, most women's attention is being drawn to Linen sarees. The flex plant is used to make linen cloth. This saree is more expensive than cotton and is a great heat conductor. Since NoboBarsha falls during the summer, linen sarees have become the go-to outfit for women celebrating the Bengali New Year. It is a breathable and long-lasting material. The linen saree on NoboBarsha would provide a cooling effect for its draper.
The DhakaiJamdaniSarees
Another unique element of PoilaBoishakh is how it is celebrated by probashi Bengalis or NRI Bengalis in far-flung locations worldwide. They, too, congregate in groups, dressed in handloom, Dhakai, and Tantsarees that they had acquired particularly for that day. If you're out of Kolkata, you can always opt for shopping silk sarees online from Indian Silk House Exclusives.
With over thirty different styles of sarees, each representing a different area in Bengal, the saree is a symbol of culture for the people. They capture the essence of Bengali weaving and handloom tradition. Perhaps the most popular saree for PoilaBoisiakh is the Bengal Cotton or Tant, some of which are lovely broad bordered sarees made of the softest cotton fabric, ideal for the April heat in Bengal.
On the other hand, unique Jamdani, Tussar, Garad, and Silks are in high demand throughout this season. Customers throng the traditional saree stores, purchasing both for themselves and as gifts for their loved ones. This is why Indian Silk House Exclusives is offering the option of online shopping. So, you can sit at home and comfortably buy sarees of your choice and get doorstep delivery.
For Bengalis, PoilaBoishakh represents more than just the start of a new year. Bengalis genuinely believe in the value of festivity. The Bengali proverb 'BaroMasheTeroParbon' (13 festivals in a year) encapsulates the Bengali love for festivity and optimistic outlook. Indian Silk House Exclusives is always ready to offer you the best of their selection.
There are many other sarees that ladies would like to wear on the auspicious day of PoilaBaishakh, but there isn't enough room to discuss them all. Indian Silk House Exclusives has a wide range of sarees for NoboBarsha and is ready to greet visitors at their showroom. Visit them, or you can shop online too and check out the silk Saree Collection in Kolkata for yourself and your loved ones to commemorate the important occasion of PoilaBaishakh, which begins on the first day of Bengali New Year.