Garad Silk: A traditional Bengali saree
By admin On September 14, 2017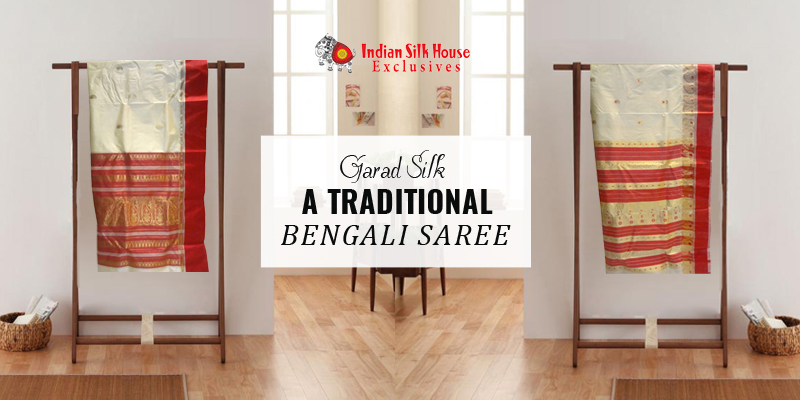 Garad looks divine. It is a sheer treat for every Bengali woman to deck up herself in a traditional Garad saree during any religious function. Garad silk, unlike other traditional saree has this mystic essence of purity that drives every wearer absolutely crazy. Apart from sprucing up her traditional extravaganza, a Garad silk saree is something that can make anyone feel a lot more exquisite. Indian Silk House Exclusives has an enriching collection of the traditional Garad sarees and it is here where you will get to run your fingers on an array of wonderfully woven Garad silk sarees at the best prices. One can easily purchase Garad sarees on the online portals as well. The webstore of Indian Silk House Exclusives offers some extravagant Garad online sarees at the best prices.
Garad sarees epitomize the traditional culture of Bengali women and are made of strong silk fabric. The fabric is not dyed and this is mainly done for retaining the purity of the exquisite fabric.
The bold red border marked on a white or off-white saree plays a significant role in letting the wearer pull off a pure traditional look in the important rituals of the festivals. The sarees have a sacred relevance and that is why the Garad sarees are found handy in most of the Bengali women's closets.
Garad Silk: A Perfect Durga Puja Saree
All the Bengali sarees appear to be gracious, classy and extravagant in their appearances and Garad is definitely not an exception. What sets the Garad apart from others is its ever so gorgeous and symbolic red borders with beautiful paisley motifs. This remarkable characteristic represents purity and epitomizes the culture and tradition of Bengal in the most alluring way.
When it comes to opting out for the perfect Durga Puja saree, every Bengali woman looks forward to take out her very own Garad saree that helps her steal the show.
Murshidabad district in West Bengal is known for producing the extravagant Garad silk sarees that are aimed at making the wearer feel prettier as well as traditional. Murshidabad district is well specialized in weaving Garad sarees and the silk yarns are mostly woven close together so that the fine texture can be directly imparted to the sarees. They have a crisp texture like paper as they are woven with starch but it becomes soft when worn or opened.
The Garad saree variety mainly incorporates tiny floral or paisley or figure patterns on the white or off-white portions of the saree having wide red border. Often it has been observed that the border of the Garad sarees are distinctively coloured. Although red borders are predominant, maroon and other colors like green, blue, mustard and grey are also there for those who are on a look out for colour options. Nowadays we at Indian Silk House Exclusives make some special Garad sarees like brocades and a few outstanding rare pieces with pure zari work. Garad sarees usually come without unstitched blouse piece along with it but we do make a few with blouse piece.
Apart from the religious occasion, Garad sarees also find significance in the wedding rituals. Bengali mother-in-laws wear the traditional Garad at different rituals to look gorgeous. These wedding sarees make every person look absolutely magnificent.
One response to "Garad Silk: A traditional Bengali saree"