How to Style your Saree for Work
By admin On November 19, 2019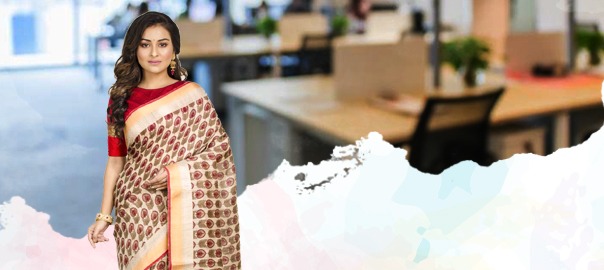 Professional spaces generally have a strict dress code that has to be adhered to by all. Generally, this puts a stop to following and staying updated with fashion trends. Comfortable and easy-going, sarees make the best professional attire. With the onset of winters, silk sarees finally come out of the wardrobe and are donned for special occasions. However, silk sarees can also be styled in a sombre manner for professional scenarios. Add that oomph factor to your office wear collection with these sarees. It involves choosing the right handloom, draping style, colour, etc.
Colour Palette:
Choose soothing, light colours instead of brighter ones for work. Avoid bold and big patterns. Instead, go for smaller geometric patterns or floral designs.
Draping Style:
The way a saree is draped signifies a lot of things. Elegant and neatly pinned drapes add a professional look. Avoid showing skin and make sure your saree is pinned well to avoid mishaps.
Texture and Fabrics:
Certain types of fabrics and textures are ideal for work. Go for light handlooms and natural fabrics like ikkat, linen or Tussar for a sophisticated and elegant look in a professional environment.
Blouse Design:
Pair your saree with simple blouses in complementary colours instead of contrasting ones. Avoid low or plunging necklines, bold cuts and too much embroidery in a corporate setup.
Makeup & Accessories:
With your saree, keep your makeup minimal for work. Opt for a nude look while highlighting your best features. While there is no issue with accessorising your saree at work, make sure you choose something simple, like an elegant watch, bracelet, stud earrings, etc.
Dressing up for work doesn't necessarily have to mean boring outfits that looks like a uniform. Playful sarees fall well under the professional dress code. Choose different sarees in fun hues to add colour to your weekdays. Dress up in silk sarees from Indian Silk House and keep hustling in style. Visit our website www.indiansilkhouse.com to check out our collection and shop today!