Ideal Rakhi Sarees for your loving sister
By admin On August 23, 2018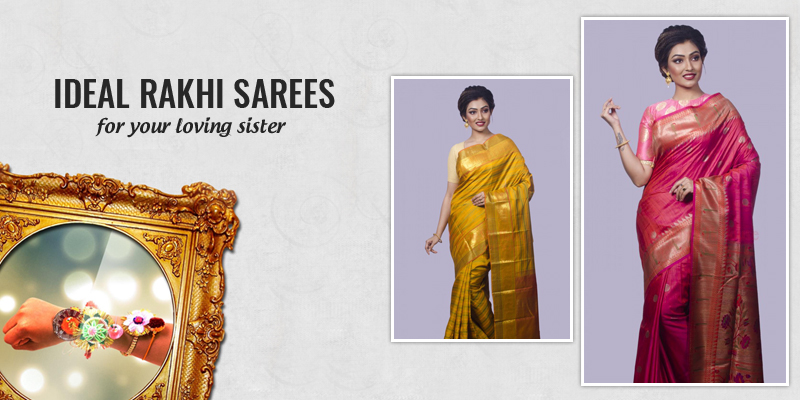 Rakhi is the next big thing in India and every sister is putting her best efforts to get her brother the world's best Raksha Bandhan. The sacred thread of Rakhi tends to make this brother-sister thing a little more exquisite. Sisters make every possible effort to ensure that she makes her brother feel a lot more special.
Raksha Bandhan is not only about tying a colorful thread on your brother's wrist but also about celebrating the moments of togetherness. Just the way the sisters work hard to make this day memorable for her brother, the brothers also have a duty to fulfill. Apart from taking care of their darling sisters, the brothers should also look forward to gift something extremely special. The Rakhi gifts are the most talked about stuff. What did you get from brother on Rakhi? This is the most common question that every sister in India has to face. There are innumerable things that can make for a wonderful Rakhi gift but in order to make her day more amazing, it is always better to simply opt out for something that will entice her attention.
Chocolates and earrings are the most commonly gifted Rakhi items. If in case you are the one who is very much looking forward to break the stereotype this year then a saree could be an amazing gift idea. If your sister loves the idea of adorning herself in a gracious six yard then it is saree that you must look forward to purchase.
How to understand what saree to buy on Rakhi?
Every saree has a distinct character and it also speaks volume about the wearer. Depending upon her nature, you can buy saree for her. For a sister who is quite bubbly in nature, a Printed Chiffon with floral patterns would look best on her. For someone who portrays herself as a traditional bong, the Dhakai sarees can be appropriate. Lovers of silk will find respite in Kanjivaram sarees and Linens are for those who love to look stylish.
Indian Silk House Exclusives is a famous South Kolkata saree store offering an exquisite range of six yards at unbelievably beautiful color combinations and fabric. Best quality silk is guaranteed here and you are sure to have a blast while shopping for an ideal Rakhi gift for your loving sister at Indian Silk House Exclusives. While you are here, the top favorite sarees that are absolutely perfect as Rakhi gifts have been mentioned below. Do have a look at them.
Ideal Rakhi sarees for your sister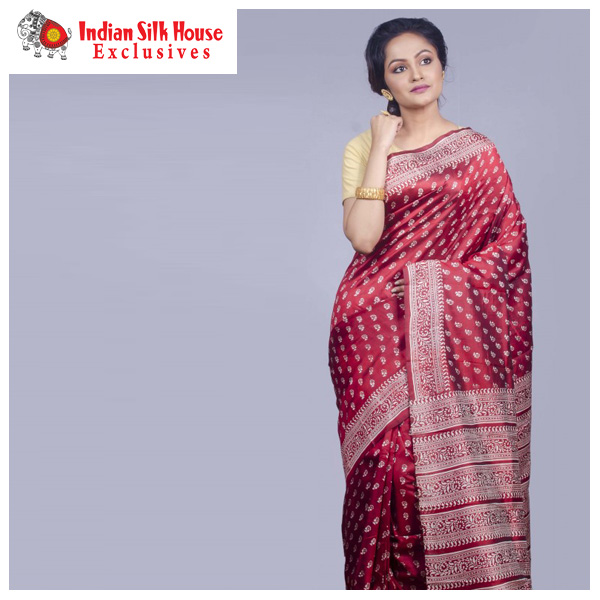 3D Bishnupur Silk Saree: Your sister is definitely going to stand out by wearing contemporarily designed Bishnupur silk saree from Indian Silk House Exclusives. For a sister who has got a brilliant taste in silk sarees, Bishnupur saree could be an apt gift for her on Rakhi.
Printed Silk Sarees: Those who have been looking out for sarees on budget will find the Printed silk sarees to be both trendy and reasonable. Available in different prints and color combinations, these sarees give an amazing sense of comfort to the wearer.
Tussar Printed Saree: Again a saree on budget, the Tussar sarees definitely makes a fabulous corporate wear. Moreover, these sarees are also apt as Rakhi gifts.
Buy any of these from Indian Silk House Exclusives and your sister is going to appreciate it forever. Moreover, you can also look ahead to gift your sister Gift Vouchers that she can use to buy sarees for her own. Gift vouchers can be amazing as the brothers do not have to worry about gong out and purchase sarees for their sisters. It gets hard to understand what kind of saree your sister would love to buy and that is why the gift vouchers are great options.