Purchasing of sarees for Durga puja
By admin On October 2, 2021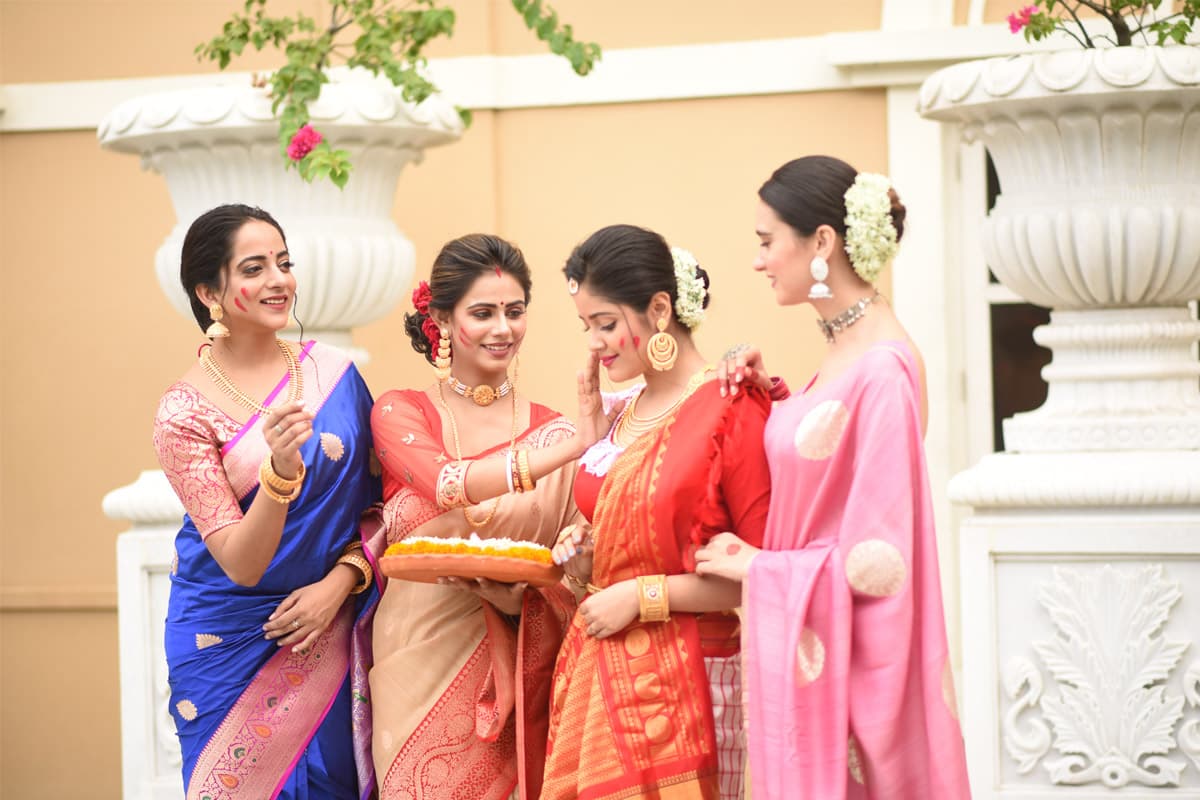 Durga Puja is quickly approaching. Yes, the month of festivities has returned and every Bengali is preparing to stock their closets with the latest and greatest collections. It's even more enjoyable to see the City of Joy decked up in the most vibrant way. There`s an interesting relationship between sarees and the Durga puja festival. India is a diverse country, with so many festivals celebrated in various communities. Durga Puja is one of the most important festivals in the country. Because the festival is just around the corner, it's time to start looking for a good Durga puja saree.
Durga puja is one of the festivals in India where women prefer to wear traditional silk sarees. People nowadays lead a hectic life, it is not always possible for them to take time out of their busy schedules to visit brick and mortar shops for festive attire. So online shopping is the best way to do festive shopping.
www.indiansilkhouse.com is one of India's leading online saree portals. If you're looking for Bengali sarees for Durga puja online, you've come to the right place!
Check out some traditional sarees from the various regions of the country that you can wear for an authentic Bong look.
Tussar Sarees: Tussar sarees are elegant and have an ethnic appeal. They are mostly handwoven and various designs and patterns are available in eye-catchy colours. The Tussar fabric has intrinsic roughness which is its beauty and should not be mistaken for defects.
Ikkat: One word to describe Ikkat is 'resplendent.' The incredible effort put in by the weavers to create something that adds value for money. Adorn a handloom woven Ikkat saree for Pandal Hopping and look stunning.
Baluchari: Choose a Baluchari to connect your Durga Puja celebrations with Bengali cultural heritage. Every Baluchari saree has a fantastic story to tell and the pujas are the ideal time to incorporate mythological stories into our memory which these Baluchari sarees depict.

Kanchipuram: Navami nights will be even more enthralling if you dress in classic Kanchipuram sarees from Indian Silk House Exclusives. Kanchipuram sarees, which come in a variety of fascinating colours and textures, are a must-have for this season.
Katan: Katan silk sarees from Benaras not only rule the wedding season, but also other occasions that call for something special. Indian Silk House Exclusives is without a doubt the best place in Kolkata to provide you with a diverse range of charismatic Katan sarees that exude complete elegance.
Make this holiday season more colourful by wearing designer drapes from this prestigious South Kolkata store, which has a stock to impress.
Those who do not have enough time to visit various shops to complete their Puja shopping can look forward to visiting Indian Silk House Exclusives on Lake Road, which promises to provide them with everything fashionable under one roof. You can look at festive sarees, designer blouses, fashion