Raksha Bandhan: Timeless Gifts for Your Loved Ones
By admin On July 28, 2020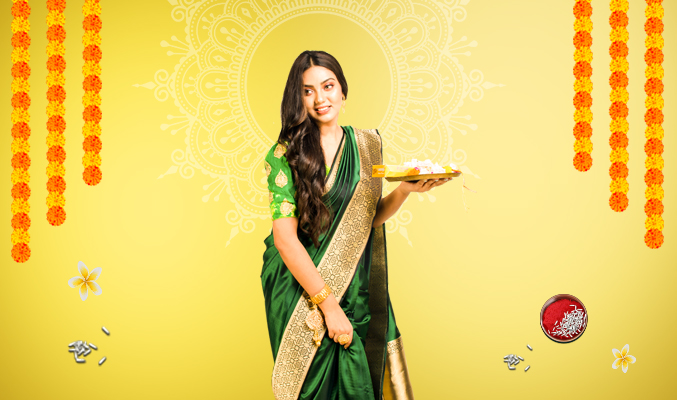 Raksha Bandhan or Rakhi is a festival celebrated traditionally as a part of the Hindu culture in India. The festival is a celebration of the loving bond shared by siblings. Sisters tie a rakhi or amulet around the wrist of their brothers to symbolise that they'll always protect their sisters and gifts are given to the sister as a token of love. However, the festival has evolved to siblings celebrating and vowing to protect each other and gifts are exchanged among brothers and sisters.
Most people start preparing for this festival for months but owing to the pandemic, this year the celebrations will be slightly different than the usual. Most people will be celebrating Rakhi at home or away from home with couriers coming to the rescue to deliver rakhis, gifts and all the virtual love we have for near and dear ones. If you have chosen your gift and sent it out, kudos to you but if you haven't, here are some gifts you could keep in mind to show your love to your loved ones:
Silk Sarees & Dress Material: Silk sarees are timeless classics that are being exchanged as gifts for years. People don new sarees on the occasion of Raksha Bandhan and it is one of the most popular gifts, especially for married women. You can also choose comfortable and fashionable dress material. You can easily order sarees & dress material online from various sites, one of them being www.indiansilkhouse.com.
Flowers & Chocolates: They might not be as expensive as a saree or jewellery but chocolates and a bunch of your favourite flowers can easily make a person feel special. They're easy to find and deliver to your siblings.
Accessories & Handbags: Another classic gift, accessories are always appreciated as a thoughtful and elegant gift. A woman can never have enough jewellery or handbags and finding great pieces that match their outfit is a dream. Go online and find the kind of jewellery and potli bags that would suit your loved one on www.indiansilkhouse.com.
Care Package: In such trying times, anyone who is living alone would be delighted to receive a care package full of goodies that they love. You can fill these with food, clothes, cosmetics, skincare products, books and more.
DIY Gifts: It is not necessary to always purchase a gift. Handmade or Do It Yourself gifts hold a special place in the heart of the receiver owing to the effort gone into making one. You can create lamps, stands, scrapbooks, digital scrapbooks and more for your loved ones.
While gifts may just be a materialistic token, each gift is a token of love that is always cherished and remembered by the ones who receive it and the ones who give it. Of all the gifts mentioned, silk sarees and jewellery somehow tend to be a part of your lives forever, passed down from generation to generation. It is a treasure that one can keep for years to come. Indian Silk House Exclusives is one of the leading stores to sell pure silk sarees and trendy jewellery. To buy your dear ones these gifts, visit www.indiansilkhouse.com and browse through our latest collection.