Samaj Sebi Sangha organizes the Longest Ramp Show in Kolkata
By admin On October 12, 2018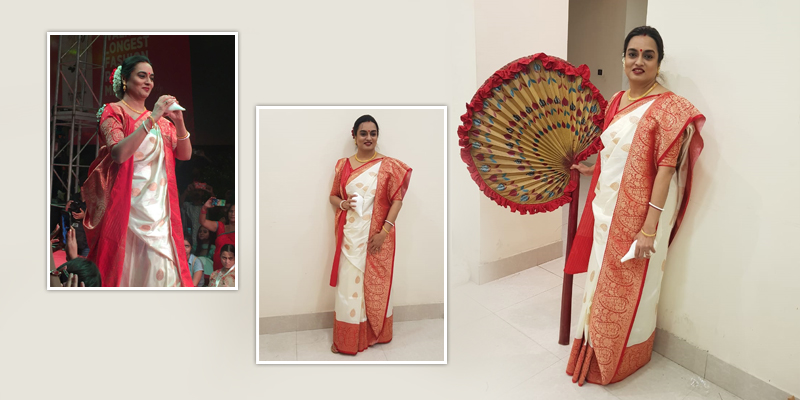 Samaj Sebi Sangha has yet again created history. Lake Road in Kolkata is proud to be associated with Samaj Sebi Sangha that comes forward with innovative pandal themes every year. Last year, they enticed everyone's attention by creating the longest Alpana and this year they worked on creating a 300 feet long ramp. October 8, 2018 was a special day in the history of fashion. A new benchmark was set in the form of walking the longest ramp in Kolkata. 300 feet is huge and thousands of people gathered right in front of Indian Silk House Exclusives to be a part of this major celebration.
The longest Ramp Show in Kolkata was presented by Femina and Reliance Trends along with ITW Playworx. Tollywood film actress Mimi Chakraborty was the brand ambassador for this event and she gracefully inaugurated the ceremony.
Longest ramp show in Kolkata
The ramp show was organized on the auspicious occasion of Mahalaya and it was indeed amazing. Rupam Islam from Fossils fame contributed quite generously towards keeping up with the evening entertainment quotient. The event coordinators managed the whole thing quite amazingly and it was a great show. The viewers got to witness some lovely puja fashion by Reliance Trends for both men and women. But the star attraction were thirteen gorgeous ladies of Samaj Sebi who walked on the ramp with oomph. Stunning women, all decked up beautifully in traditional Bengali Puja look walked the longest ramp in Kolkata representing the beauty and aura of Durga Puja. Mrs. Kavita Samsukha, the proprietress of Indian Silk House Exclusives was one among those thirteen ladies who stole the show. Beautiful songs were played and creative dance performances were held to make the evening more enchanting.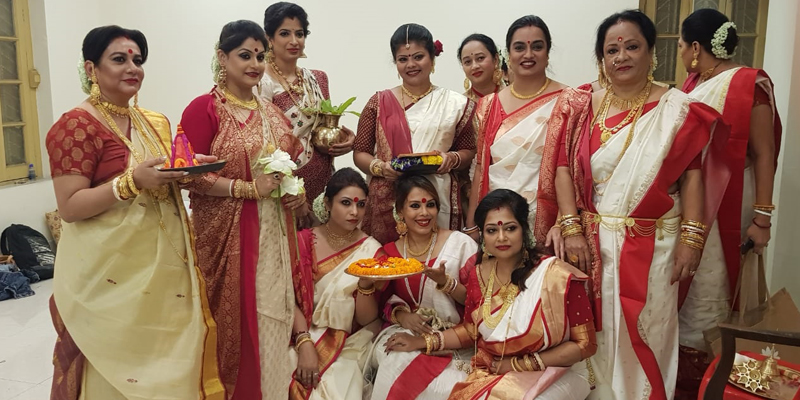 This year, Samj Sebi Sangha has come up with an innovative theme that focuses majorly on Eye Donation campaigns. The mandap has two front panels that will showcase both Solar and Lunar Eclipses. It ponders light upon the bare necessity of giving back light to the ones in need. The mandap also lets the viewers to experience and feel the magic of artistry by touching each and every object. It was inaugurated by honorable chief minister Ms Mamata Banerjee on 10th October,2018.