Saree & its glorious splendor
By admin On June 30, 2018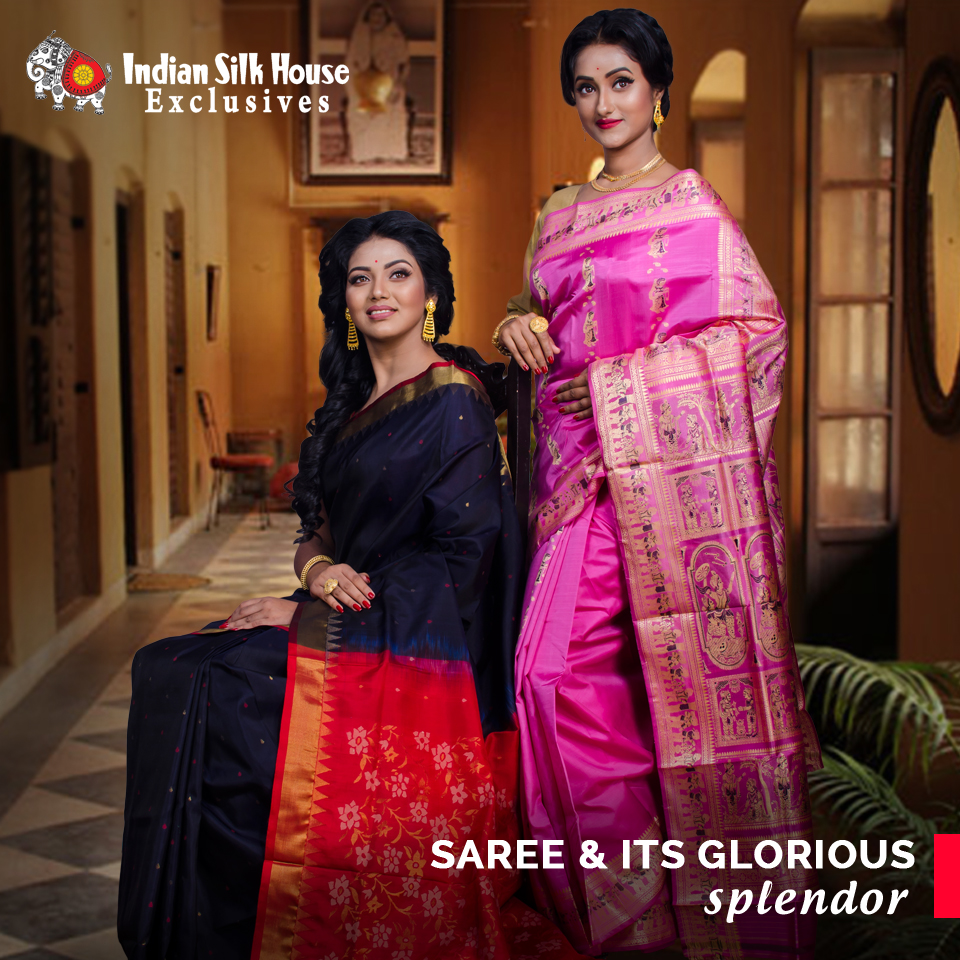 The ever so gorgeous six yards holds immense value and respect in every wearer's heart. Saree, although mostly seen on South Asian women, is quite a common garment that holds immense popularity among the people residing in the world.
This graceful attire is made of five to nine yards drape and worn generally with an upper garment (also known as choli) and a petticoat. The enriching history of saree dates back to the Indus Valley Civilization. There is an endless variety of sarees which includes cotton, silk, tie and dye, block-print, etc. There are different types of sarees available in the market. Every season, occasion and purpose requires a different saree. For weddings, women are seen adorning their heavily embellished Benarasis and Kanchipuram, Uppada sarees. Working women prefer to put on some of the comfortable cotton, printed silk, linen and Kora sarees which give them freedom to walk around smoothly. Sarees like Tussar, Paithani, Gadhwal are common at religious occasions.
Saree and its different draping styles
Over the years, the world has seen several saree draping styles. The drapes mostly depend upon the occasion and wearer's occupational requirements.
Out of all the draping styles, the most popular is the one where a set of folds are placed at the front (pallu) and the end of the saree is draped right over the shoulder.
The ever so glamorous six yards is a versatile attire that looks more beautiful especially for the stunning drapes it offers its wearer with. A large number of women residing in India prefer to put on this attire that simply spruces up their personality in the most extraordinary way. This simple, long and unstitched piece of cloth allows the wearers to try out different draping styles. Depending upon the climatic conditions and occasions the wearer generally drapes the saree. Often the social, political and cultural aspects are also taken into account before selecting the draping style.
Transformation from mere fabric to the glorious six yards of elegance
The process of cleaning, combing, spinning, reeling and weaving of the fabric transforms the finest cotton threads to a whole six yards of saree drapes. It is truly magical to witness this exquisite transformation from light to heavy silks and fine to coarse cotton sarees.
Indian Silk House Exclusives is home to a large variety of sarees that can be draped in different styles. Be it an enriching Benarasi, exclusive Kanchipuram, gorgeous Uppada or even a comfy Cotton saree, every six yards has a unique tale and this South Kolkata based store is just the rightful palce to fulfill all your yearning saree desires.