Sarees for plus-sized women
By admin On October 25, 2017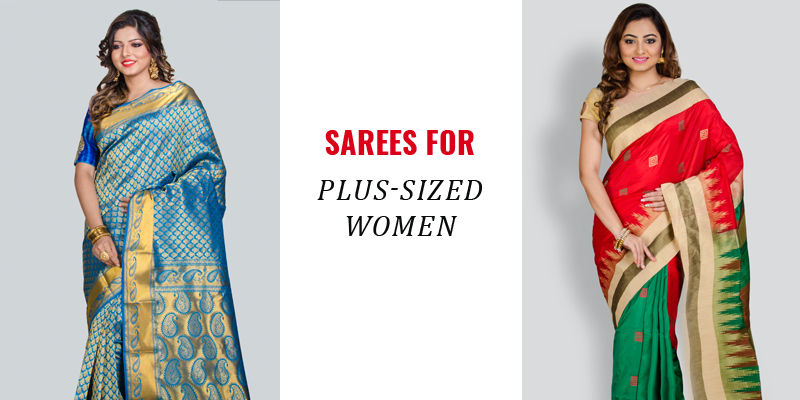 Women in India absolutely adore the idea of adorning themselves in the ever so graceful six yards. No matter how much convenient they feel about wearing the western attire, the beauty of a saree remains unparalleled. Today's working women are more comfortable in the formal apparels but that does not make them love their sarees any less. It is especially at an evening event or a traditional family function that they continue searching the perfect silk saree for the occasion.
Many people prefer to buy online sarees and that actually helps them to get their hands on the perfect online saree collection. When we buy sarees, we always picturize ourselves as the leading ladies in Bollywood who look impeccable wearing their designer sarees. Honestly, only a few of us manages to put in the time and effort to maintain our figures as the daily hectic schedule leaves us with absolutely no time to spend on ourselves. This does not imply that curvy and voluptuous women do not look good in sarees. In fact saree is the only garment that can justify all your body curves. Sarees are both for size-zero and plus-sized women. Hence, if you have a little or more curves then do not worry as the right saree can make you look downright gorgeous.
No other Indian garment can accentuate the soft curves on your body than the beautiful sarees. It is aimed at giving you a look that can easily make you the cynosure of all eyes.
If you wish to look glamorous at a traditional function or a party event, you must start looking out for the desirable saree that will justify the beautiful curves that you have been blessed with.
The right Fabric will do the magic: Lightweight fabrics make you look slimmer in sarees. There is no point in going out for heavy-weighted Kanjivaram or any other heavy saree that will add extra weight to your body. The fabrics which are crisp and stand out like Kora or thick cottons should be avoided. Soft and light textures should be preferred. Your favorite fabrics should be Chiffon, georgette, crepe, soft silks and similar light weight natural fabrics. You can find some of the gorgeous varieties of these sarees at the Kolkata based Indian Silk House Exclusives.
The perfect Colour works wonders: As soon as you are done with the fabric selection, you can get started with the colours. Colours do play a significant role in giving you a glamorous avatar. The darker shades are your best mates when it comes to hiding your curves.
Drapes: Try to drape your saree very tightly around your body. If it is left loose from any corner, it will make you look heavier. Try to opt out for fewer amounts of pleats.
Saree Borders: If your aim is to look slimmer in sarees then make sure to wear sarees with thin border lengths. Plus-sized women look more compact when they wear sarees with a slim border. Moreover, the thin border lengths give away the illusion of a taller body frame.
Accessorize your sarees with contemporary jackets: This is done to hide imperfections. Moreover, you are sure to attract attention as you will be looking stylish, trendy and also completely different from the rest.
The choice of the petticoat: Your petticoat must be sleek and trendy. The ones with broad elastic band can give you the desired slim look.
These are some of the tips that every plus-sized woman can look forward to trying while wearing the beautiful six yards.