Sari in Indian Politics
By admin On February 27, 2017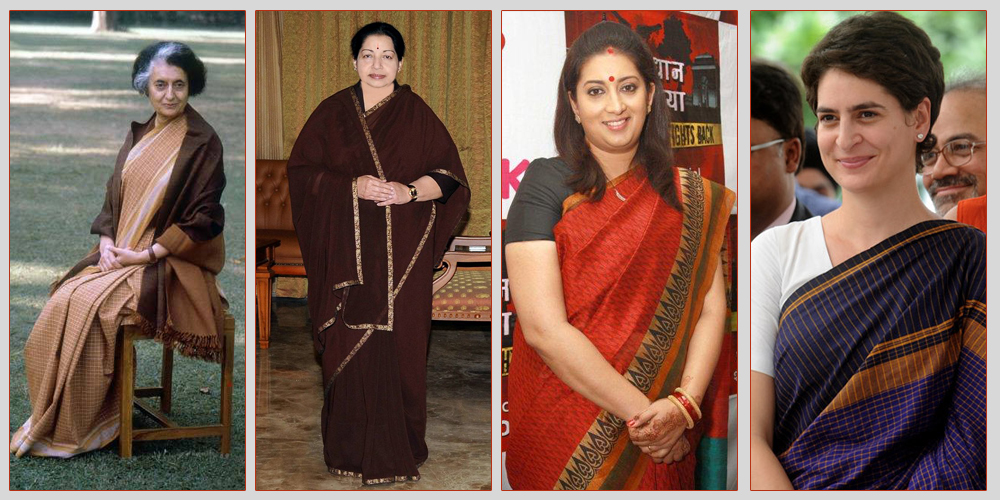 Sari is a sophisticated, stylish and trendy garment. Every woman who is passionate about saris can relate to the happiness they get to feel while adorning the six yards.
In the last 50 years, the Indian traditional sarees have become immensely popular. A part of the credit goes to all the women politicians who have promoted the beauty of Indian handloom in the most honorable manner.  Although they had the luxury to afford expensive western clothes, they simply chose to stick by the Indian handloom sarees. The sari has always been a popular garment and the women politicians tend to spruce up the level of popularity by adorning them beautifully all the time.
From Indira Gandhi to Mamata Banerjee, Sarojini Naidu to Jayalalitha, every Indian woman politician has always made sure to showcase the eccentricity of the Indian weaves and traditional fabrics to the world.
Sarojini Naidu had contributed immensely to popularize this traditional attire. She was also known for her brilliant choice in South Indian silks. During the mid 60s, the Congress Government happened to have abolished the privy purses. This situation resulted in the growth and development of the crafts and handloom sectors. As a result, the floral chiffon look gradually began to fade.
Former Prime Minister of India, Indira Gandhi used to wear exquisitely designed handloom sarees for the promotion of indigenous textiles. Right from the beginning of her career, she beautifully adhered to the prevailing tradition of embracing silks and chiffons and paired them with neatly dressed-up blouses. Gradually she discovered her fondness for the handloom sarees of India. It was her associate Pupul Jayakar who helped her set up a connection with the world of craftsman and weavers.
For every special occasion, Mrs. Gandhi used to make sure that she wore beautiful saris that displayed the intricate skills of the weavers. The six yards exudes a certain charm and uniqueness which has been gracefully embraced by both Indira Gandhi and her daughter-in-law Mrs. Sonia Gandhi. Even Mrs Priyanka Gandhi gracefully follows the tradition of her Grandmother.
Apart from them, Margaret Alva, Subhashini Ali, Sushma Swaraj, Brinda Karat, Smriti Irani and other women politicians continue to keep up the saree trend that showcases a marvelous sophistication.