Stylish Durga Puja Sarees you must try this year
By admin On August 29, 2017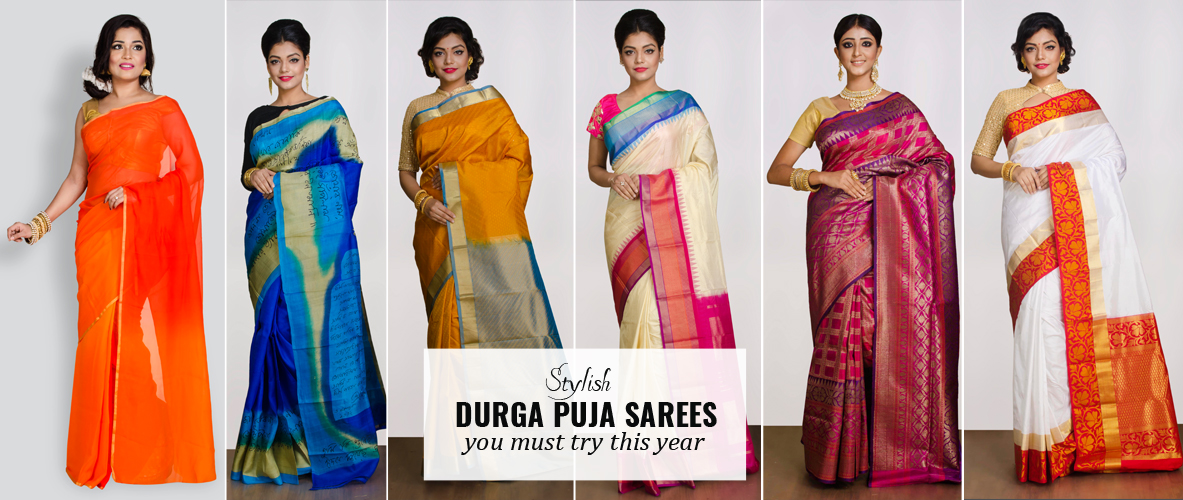 Sarees are captivating and there is no doubt about that. Every girl looks drop dead gorgeous when they are seen embracing themselves in the traditional six yards of sheer grace and resplendence.
The Kolkatans or those who have stayed in the City of Joy during the Durga Puja can easily understand the mad rush the natives go through. Be it for completing their puja shopping or for going out on a pandal hopping spree with friends and family, Durga Puja is for us what Ganesh Chaturthi is for Maharashtra.
Every Kolkatan looks forward to this time of the year when our very own and special Durga Puja festivities will begin. That time of the year is here again. Only a month is left in hand to complete your Puja shopping. After all you just cannot let go off this golden opportunity where you get to dress up in your best ethnic wear and hang around with your loved ones.
Durga Puja 2017 is the perfect time for bringing out your beautifully woven traditional sarees that you have saved for this festival for so many months. Accessorizing your saree look with matching or contrasting blouses, jewelry becomes a part of the celebration. The dire need to look nothing but the best drives the Kolkata ladies on fire.
So what is your ultimate plan for Durga Puja 2017? Are you still stuck at the thinking phase where you are just too confused to understand what exactly to buy for yourself? If the answer to this query is affirmative then you must go for the six yards.
Sarees for Durga Puja 2017
Sarees look elegant on every woman. Whenever in doubt, wear a saree and you are sure to look 100% elegant. The gorgeous six yards can make any woman look outstandingly beautiful. It is all about how beautifully you can manage to deck up yourself that eventually matters the most.
If you are running out of confusion regarding what kind of sarees you should be wearing during the upcoming Durga Puja 2017, you must look ahead to go through the following pointers that will give you a clear view of what exactly you need to buy to accentuate your ceremonious look.
Panchami Pandal Hopping: For every college-goer, Panchami is that righteous day when they can look forward to hit the pandals along with their friends. Opting out for the simple yet classy Tussar silk or the easy breezy chiffon could help girls to feel comfortable throughout the time. Remember: The day could be bright sunny or cloudy and rainy. Hence, opt out for colours and material that would justify your day look for Panchami.
Sashti Corporate wear: Most of the offices in Kolkata pull down their shutters on Sashti evening and that eventually marks the beginning of Durga Puja for them. Therefore, the Sashti looks needs to be both corporate and conventional. Going out for light shaded and light coloured sarees will help you carry yourself around throughout the day at work and also in the evening when you have plans to hit the streets with friends.
Saptami Pujo feeling: Yes, it's Saptami and all your best ever traditional sarees are jumping with joy inside your closet as they will get to see the light of the day. On Saptami, you can choose to wear the traditional Gadhwal or the Kanjivaram silk sarees that will surely bring oodles of glamour to your overall appearance.
Ashtami: This day is when all the ladies go out to offer their Ashtami prayers in the form of Anjali to Goddess Durga. They deck up in their best sarees that are glamorously elegant. The traditional red and white colour combination is considered to be ideal for making your Ashtami as splendid as you have always desired for. For the morning look, get a saree with white and red combo and for the evening, get something more contemporary.
Navami: Navami nights are aimed at captivating your

Durga Puja

essence in the most desirable manner. Wear something that looks traditionally quintessential and you are surely going to feel enthralled.
Dashami: It's the day when we adorn Maa Durga with vermillion and sweets and bid our final goodbye with teary eyes. The fun days are not over yet though as we Bengalese deck up ourselves in traditional white and red sarees to attain that scintillating Subho Bijoya look.
Make a style statement this Durga Puja with sarees that not only make you feel elegant but also help you achieve a wondrous look throughout the Puja. Garner compliments as you explore different Puja pandals in Kolkata while wearing the traditional silk sarees from the one and only Indian Silk House Exclusives.