The Best Indian Benarasi Silk Saree Designers you must follow
By admin On June 28, 2017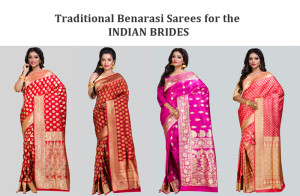 Every Indian bride looks forward to deck up in the most outstanding manner on her D-day. That day belongs to her and in no way she can afford to put it on a toss. Hence, she is always on a look out for only the best designs in terms of purchasing her traditional outfit that is the exclusive Benarasi silk saree. You should always try to focus on realizing your dreams of a fairytale wedding.
The person who can help you attain the perfect wedding look is most certainly your bridal outfit designer. In India, there are several sought-after bridal wear designers who have gained popularity for the kind of work they deliver. If your wedding date has already been finalized then you should simply look forward to find out the best Indian bridal designer who can make your day as memorable as you have always wanted.
It is rightfully stated that every Indian wedding happens to be a compendium of various rituals and the wedding day is considered to be the most significant day in every bride's life. Hence, it is always important to ensure that nothing goes wrong with the bridal outfit.
Benarasi is the mostly preferred silk saree fabrics for the brides. This fine silk variant originates from the city of Varanasi in Uttar Pradesh. The range of sarees that are woven from this fine quality silk is known as Benarasi silk. The Benarasi Silk saree happens to be quite popular throughout the world. The ninety year old well known Kolkata brand INDIAN SILK HOUSE showcases a huge variety of bridal Benarasi sarees at the most reasonable prices that are worth a 'Dekho'. Now they sell globally by their portal www.indiansilkhouse.com. Check it out.
Over the years, affluent brides in India are spotted being draped in a classic bridal wear creation by famous bridal wear designers. Let us have a look at the below mentioned Indian Benarasi designers who are great at unveiling magic behind their designs.
Sabyasachi Mukherjee: He is the most eccentric designer India has in recent times. His sense of bridal fashion can make any and every bride look outstandingly elegant yet gorgeous. His Benarasi bride collection includes intricate designs of enriching patterns of Benarasi fabric. His bridal collection is fluid, earthy and astoundingly charming. You would absolutely love the idea of exploring a wide array of Benarasi silk sarees and Lehengas available in a variety of different shades and designs at a Sabyasachi store. His collection always wins accolades and applause and the designer truly deserves all of that. Each and every bridal outfit by Sabyasachi oozes plenty of glamour and glitz.

Ritu Kumar: Her name does not require any introduction. She is one of the most celebrated fashion designers in the world and is mostly known for wonderfully marrying each and every print with intricate embroideries. She works mostly on earthy tones and the presence of tarditionality could easily be found in all her creations. It is definitely going to be a great opportunity for you to wear one of her Benarasi creations on your wedding day.

Rahul Mishra: Beauty lies in simplicity and Rahul Mishra surely knows how to redefine every inch of uniqueness in his creations. You will get to find a wide array of Benarasi silk sarees in exquisite designs and shades. His couture is all about presenting the world with colors that are soft yet bold and sheer yet eye-catching.

Ekaya- Banaras: If you are on a look out for a collection that is both entrenched and exquisite, then you ought to explore the mystic collection of Ekaya. Over here you can look forward to explore exclusively designed bridal sarees that can entice every fashion lover.
Hence, if you are planning to look like a vision on your wedding day then you need to visit the stores of these fashion designers and purchase your very own Benarasi silk saree.