The Month of Festivals and The Traditional Attire: Saree
By admin On August 20, 2019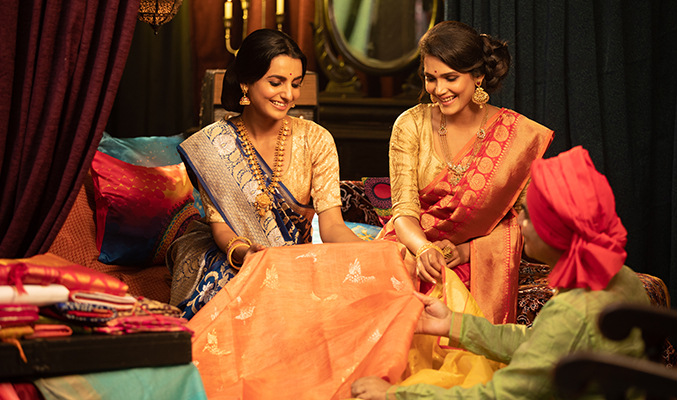 Festivals and occasions are a huge part of the diverse culture of India and with the onset of the month of 'Saavan', comes the auspicious festival of Raksha Bandhan, followed by Krishna Janmashatmi. The patriotic anniversary of our country's day of independence falls in August and this year, even the religious festival, Eid-ul-Adha falls in the middle of the same month. For women, these festivals include performing rituals, bringing families and friends together and getting involved in grand and dedicated celebrations. A major (and the most exciting) part of this is dressing up in new, traditional attire. For any kind of festival or ritual, sarees, especially silk sarees, are considered the most auspicious and appropriate garb.
Independence Day
The first depiction of saree like costumes dates back to 100 B.C. The saree has been a part of our history and created ripples through the decades, especially during the struggle for independence. Leaders like Sarojini Naidu and Indira Gandhi chose to have a public image that always saw them draped in a sober saree. Politicians like Sonia Gandhi, Mamata Banerjee and Priyanka Gandhi chose their signature look in sarees for acceptance from the masses. Even for the celebration of Independence Day, women and girls often dress in sarees, especially in the tricolour shades of our flag.
Raksha Bandhan
Raksha Bandhan celebrates and strengthens the bond of siblings where the sister ties a rakhi on the wrist of their brother and gifts are exchanged. Considered as one of the biggest festivals of the Hindu religion, women dress up in traditional sarees and visit their relatives. Marked as a sign of respect, the most common gift exchanged are sarees, be it to sisters, mothers or sisters-in-law. While it is not a necessity, the celebrations of Raksha Bandhan are incomplete without this traditional attire.
Janmashtami
The birth anniversary of Lord Krishna is celebrated with much pomp and enthusiasm throughout the country. Idols of Krishna are decorated and dressed up with flowers, new clothes, accessories and miniatures of multiple things. Janmashtami being a religious festival, women dress in sarees in the colour yellow or kesariya, to show their devotion to the avatar of Lord Vishnu.
Every festival is celebrated in its own special way. Along with the religious or traditional aspect of it, any occasion is seen as a reason to dress up, plan get-togethers with our near and dear ones, cook up a storm with delicious food and sweets, and enjoy the merriment. Sarees are clearly the go-to outfit, be it in the hues of independence to celebrate our democratic country or donning bright colours like yellow and kesariya for Janmashtami and Raksha Bandhan. Indian Silk House Exclusives is your perfect companion for this season of festivities with a wide range of traditional and pure silk sarees, perfect for every occasion and celebration. To order, please visit our website – www.indiansilkhouse.com.