The Saree of the Season: Kanjivaram Silk
By admin On December 9, 2019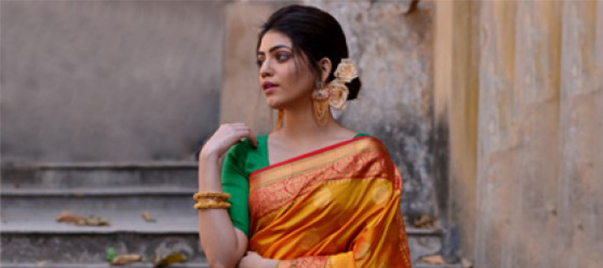 With the onset of winter, silk sarees take over your wardrobe for weddings, parties and social gatherings. Pure silk sarees are a treasure for any woman, especially a pure Benarasi or Kanjivaram silk saree. During the wedding season, Kanjivaram sarees are a classy ethnic option and sell like hotcakes. Woven from pure mulberry threads from South India and zari or golden threads from Gujarat, the Kanjivaram silk sarees are now an essential part of celebrations and weddings, especially in South India.
History of Kanjivaram
Originating from Kanchipuram, a small town in Tamil Nadu, the sarees are being weaved for 400 years now, by weavers who moved from Andhra Pradesh and gained popularity during the reign of Krishna Devaraya. As per Hindu mythology, the Kanchi silk weavers were descendants of Sage Markanda. They were the weavers of God and weaved silk from the tissue fiber of lotus. This material was a favourite of Lord Vishnu
Weaving Process
Generally, the pallu and rest of the saree are different from each other and generally, they are woven separately and joined later. In fact, often a zig-zag pattern denotes the part where it is joined. Three different shuttles are used to weave Kanjivaram silk with a silver wire. While this makes the fabric strong and durable, this also adds to the weight of the silk saree, making it more than 2 kilograms in general.
The colours used are vibrant and often contrasting for the pallu and the rest of the saree, as it is woven separately. Along with popular motifs like paisley and florals, the motifs on the saree are often inspired by imagery and sculptures of South Indian temples as well as the depiction of scenes from Ramayana and Mahabharata. Often, paintings of Raja Ravi Verma are woven into Kanjivaram sarees.
Styling & Maintenance
Kanjivaram sarees are worn in many different ways, especially like a lehenga by the bride. Nowadays, women often pair their Kanjivaram sarees with fancy blouses or a jacket. The best way to style a Kanjivaram saree is to keep it simple. A statement gold necklace along with some dewy, fresh makeup is perfect for any occasion. The best way to keep a Kanjivaram saree is to store it in a separate saree bag and maintain it by dry cleaning.
Kanjivaram sarees have been recognised as a geographical indication by the Government of India since 2005-06. A geographical indication is a sign used on products that have a specific geographical origin and possess qualities or a reputation that are due to that origin. These sarees are an integral part of the Indian culture as well as an heirloom that is often passed down by generations. These sarees are rich in history, culture and help you nail the perfect ethnic look. To check out our latest collection of Kanjivaram sarees, visit www.indiansilkhouse.com and get yourself a saree you'll look gorgeous in!