The Top Trends of Spring 2020
By admin On April 22, 2020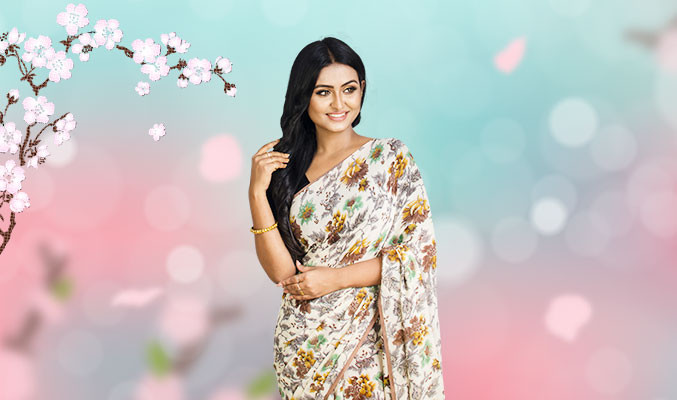 As winter ends, India witnesses the beautiful onset of spring. The flowers bloom, the weather is pleasant and the sun shines, making everything seem vibrant. These days, from the young to the old, everyone is embracing the comfort and versatility of ethnic wear. Flowing, breezy silk sarees make for great spring attire. This season, here are a few essentials you must absolutely have in your closet to stay on top of the latest trends.
Bring out the light-weight sarees
With the changing seasons, bring out your breezy and flowing sarees like Chiffon and Georgette as well as Dupion silk and Dhakai and keep it light! These light-weight and easy-breezy sarees help your skin breathe and keep you comfortable, especially if you're travelling or have a long day ahead.
Experiment with Blouse Styles
Along with your sarees, you can also choose to experiment with different blouse styles in Spring. Considering that the weather is pleasant, different styles like cold-shoulder sleeves, capped sleeves, backless blouses or even styling a crop top as a blouse can change your look and make your Spring attire stand out.
Play with Prints
Be it florals, geometric or abstract, prints are the easiest way to experiment with your look, this Spring. Printed sarees add the fun to your wardrobe, especially for workwear or casual outings. Paired with statement pearls or studs, they make for the best attire during the months of Spring and Summer.
Have fun with Colours
Spring is the season of colours with bountiful flora and fauna all around. The vibrant colours of nature should reflect in your wardrobe too. From neon shades to soothing nudes as well as bright shades of mustard, pink and tangerines, sporting colourful sarees during Spring is the best way to stay trendy.
Keep it Classic
Some sarees are evergreen, no matter which season is going on. Kantha and Kanjivaram sarees are classics that never go out of style. For formal occasions, weddings and other functions, bring out your favourite silk saree in a vibrant shade and try it out in different drapes.
While trends come and go, what truly matters is staying comfortable and creating and following your own trends. Sarees are one such piece of clothing that are ideal for every season and never go out of style. If you're looking to upgrade your wardrobe with the latest silk sarees, look no further than Indian Silk House. Visit us at our stores or visit www.indiansilkhouse.com to explore our collection.