The Traditional Silk Sarees –Women's grandeur
By admin On January 18, 2016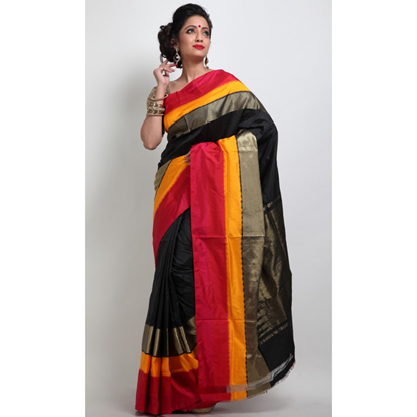 The Traditional Silk Sarees –Women's grandeur
Silk has always played a vital role in the art of Indian sarees. Be it a marriage or a festival when it came to sarees, silk has been a  key player from the time immemorial. In the history of Indian sarees, silk has been the basic yarn used for weaving a saree in most of the districts whether its south, north, east or west of India.
In this section we are going to see a variety of sarees based on silk that come from various production centres of India like Andhra Pradesh, Assam,  Chattisgarh, Madhya Pradesh, Gujarat, Orissa, Tamil Nadu, Uttar Pradesh, West Bengal and so on.
To name a few, Indian Traditional Silk Sarees would include the names like Assam Silk, Katan Silk, Kora Silk, Gadhwal Silk , Ikkat Silk, Bomkai Silk and many more.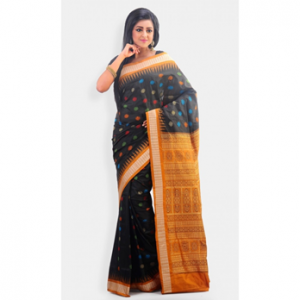 Image Courtesy
https://www.indiansilkhouseexclusives.in/index.php?route=product/product&path=59_93&product_id=363
This is the black Bomkai Saree which originates from Odisha. This hand woven saree  has a majestic combination black with gold. The black body has multicolored floral spots all over. A mustard color blouse piece comes with the saree . However a black designer blouse can be a good option as well.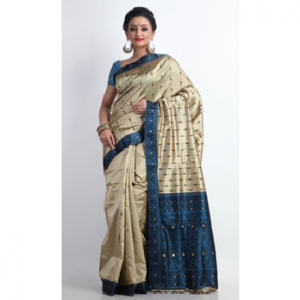 Image Courtesy
This is a pure Assam Silk saree. The light color body is well contrasted with bright colored border and pallu. The border in Assam silk is attached like  applique work. The thread color used in weaving is black and yellow. The small booties look elegant and adds a touch of class.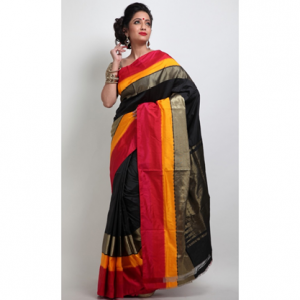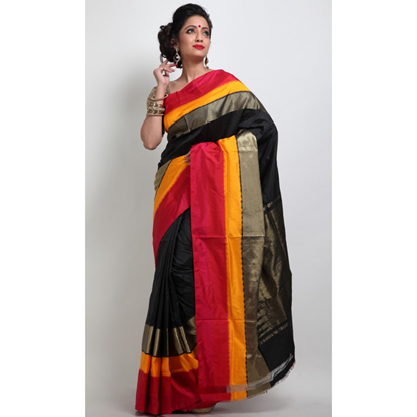 Image Courtesy
The origin of Ikkat saree is from Nalgonda district in Andhra Pradesh. This can be a fabulous collection in the wardrobe. This black saree is uniquely woven with red and golden yellow resham border followed by extended zari border. The is a good party wear. Light silver junk jewellery will enhance the ethnic look.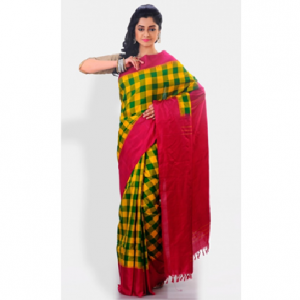 Image Courtesy
The pure silk Gadhwal saree originates from the Telengana district. This saree has checkered body with golden yellow and green colors and a plain pink pallu. The overall look of the saree is simple because it does not have any floral or any other figurative motif. The saree is provided with a matching blouse material. It is a good  party wear saree -light and chic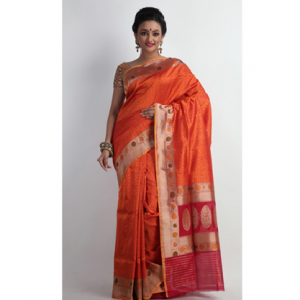 Image Courtesy
The katan saree originates from Varanasi. This is a deep orange Katan pure silk saree. The body of the saree has a dense yet subtle floral work all over the body with an explicit pallu with traditional motifs and zari works impeccably crafted. The border has orange and olive color floral motifs. This can be worn in a bridal reception party with a matching blouse piece which incidentally comes with the saree.