The Weddings In The New Normal
By Kavita Samsukha On May 20, 2021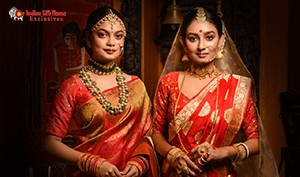 Intimate, close- knit, classic and simple are what Weddings are looking like these days for those who choose not to delay in ushering in the D Day. If 'intimate' was niche earlier, it is the only reality now for generations brought up on the romantic and colorful album of hindi films like Band Baaja Baaraat and Hum Aapke Hain Kaun.The big fat Indian weddings have reduced to small, slim Indian weddings.The grandeur has been reduced, the gatherings curtailed to a just intimate few.
Choice of wedding clothes- The clothes will be lighter. The collection of clothing, jewellery and accessories for trousseau is curtailed to just its core by this global crisis.While marriages will continue to take place and the attendees will want to look good along with the bride and the groom but people will not want to wear the kind of clothes they used to wear. So while choosing the outfits for the wedding simplicity and aesthetics are the main criteria. For the moment the tone is warmer, cherishable and personalised in its own way. Due to the pandemic people have an elevated sensibility towards human emotion, craft and longevity of their garments. They are willing to invest in clothing that is beautiful, elegant ,supports local crafts and lasts in their wardrobe for years to come.
Sustainable timeless clothing-In this time the wedding attire will become more and more season less and primarily a Benarasi saree is believed to be timeless and classic that has more connection to the emotion. As we progress towards mindful shopping and sustainable fashion alternatives , craftsmanship is going to be the factor that determines the choice of wedding attire. Insead of chasing the trends intrinsically, classic goes a long way. If you go back to history some of the best styles worn were hand woven silk sarees like a Benarasi or a Kanchipuram.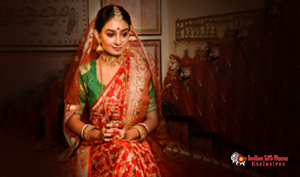 New silhouettes and hues– The bridals have two strong trends that have been prevalent over time . One is traditional red and the other is soft pastel hues. As the oldest and the most trusted brand dealing in silk sarees we at Indian silk House Exclusives believe that timeless and classic made in India weaves are here to stay. Not only the looks but focus on versatility, and comfort will be the consideration while choosing a bridal outfit by the bride. Today's bride is traditionally rooted at the same time she has her individual expression. Hence we are seeing a range of hues starting from quintessential red, pink and peach to royal blue and emerald green. The possibilities are endless.
Must have accessories– Banarasi Brocades need a special mention as far as the blouses along with sarees are designed with. The key to a successful wedding collection is to stay true to your vision and look one is best known for. Find a way to redefine it with play of right accessories and color combinations.
The way forward– Attend over zoom or in person, a wedding embarks a special journey for the families and loved ones of the bride and the groom and that will never change. This aspect of intimacy towards relationships continues to make Indian weddings great. Our will to long for happiness, for hope and for love and the intention to share our special moments with our close ones make it all the more special.