Tips to identify an authentic Assam Silk Saree
By admin On January 31, 2019
Assam is known for its picturesque natural beauty, wildlife resource, exquisite tea gardens, amazing culture and last but not the least quintessential textile weaving. This Indian state has been creating a remarkable benchmark in the craft industry for several decades. Assamese culture is incomplete without its finest silk weaving processes. Every saree lover dreams to own at least one Assam silk saree.
Finest craftsmanship of Assam silk sarees
Saree is the wardrobe staple of India women and it is indeed an honor to own one of the finest Assam silk creation for any saree lover. Assam is popular for being well enriched with a plethora of skilled weavers who work immensely hard with various kinds of Assam silk, namely Eri, Pat and Muga.
Muga: Gold that rules Assam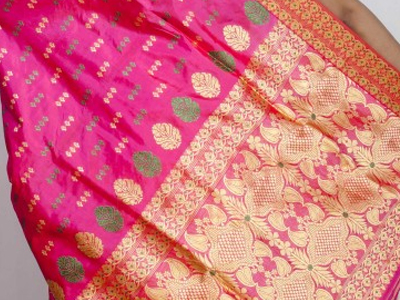 This gorgeous fabric exudes royalty in every sense. Known for its natural yellowish-golden hue and amazing durable conditions, Muga silk is mainly reserved for royalty. The Muga silk sarees are nonetheless quite expensive in nature and also form an intrinsic part of traditional weddings. This golden silk is exclusively found in this state and is superior from the other forms of silk available in the world. The fine and lustrous look of Muga makes it stand apart from the rest.
The silk produced by Muga silkworms is 100% organic in every aspect and has already stood the test of time. It is said that the beauty and strength of an Assam silk saree can be identified only after years of wearing and washing. The more you wear it, the better it will look. The silk fiber is said to be the strongest and that makes it even more captivating.
Indian Silk House Exclusives presents authentic Assam Silk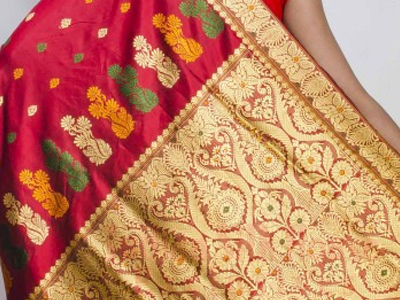 Indian Silk House Exclusives has an age old reputation for offering its clients around the world with genuine silk sarees, lehengas, designer blouses and accessories. This is a 92 year old organization with a classic reputation of being customers' favorite in every sense. This store does not only sell products but also believes in educating all the customers with authentic knowledge about the quality of the products they are purchasing. We value the money you spend on our products and thereby make it a point to interact with our customers individually whenever we feel they are in doubt.
Different types of silk sarees have different sets of uniqueness. Most of the time, we have noticed that customers do not know about the finesse and exquisiteness of a product before buying it. This is why we are here to help. Assam silk saree is a class apart from the other types of silk sarees. If you are feeling confused about the speciality of an Assam silk saree then go through the following pointers:
The borders in an Assam silk saree are woven and attached separately. You may ask why so? The answer to this query is quite simple. Assam silk sarees are completely hand-woven. It takes more than a month to complete one Muga silk saree. The borders of these sarees are woven and attached separately along the border lengths. There are altogether 3 joints stitched in the upper end whereas 4 joints could be noticed at the lower end of the saree. If you find small joints in the border areas in your Assam saree, do not panic. It is not physically feasible for any weaver to weave such elaborated borders along the saree length and hence they opt for joining them separately. This is also done to provide a strong and stout support to the saree. Muga silk is itself quite a strong fiber but the border lengths require special support and this is why the joints are made to be attached separately.
The price factor is always there. This is a handloom product and it would not cost you any less than 6,500/- for an authentic pure Assam silk saree. You can try different stores but just remember not to get duped as there are several fake products available all over.
Essentially they use resham for weaving an Assam silk saree but in a few pieces you may find a little zari as well. Colorful resham used in weaving an Assam silk makes these sarees as rich as the Assamese culture.
Considering the vastness of the nature of Muga silk, it is indeed difficult to include everything about this vibrant silk fiber in this blog. Continue reading us as we will be posting more updates on this exclusive silk in our upcoming blogs.