Traditional Drapes You Should Definitely Try this Puja
By admin On September 28, 2019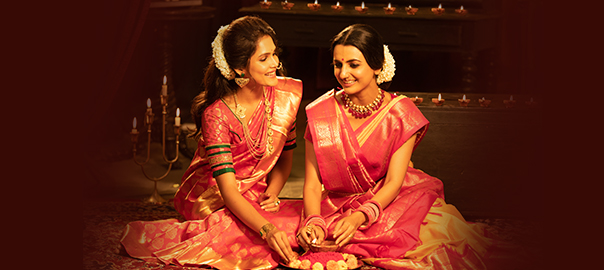 The whole country will soon celebrate a month-long festivities in October with Durga Puja, Navaratri, Dusshera, and Diwali. Celebrations will include rituals and traditions that have been passed down for centuries. Dancing, cooking a grand feast, going out pandal hopping, dressing up and spending time with your loved ones is an inevitable part of these festivals. Each of these festivals is celebrated in a majestic and grand manner in some parts of the country, like Durga Puja in the East or Navaratri in the West. Check out some traditional drapes from these parts of the country that you can try out for an authentic look.
Athpourey Style
Be it for Sindoor Khela or for Anjali, draping a silk saree in the Athpourey style is a must during Durga Puja. With broad box pleats, for this drape, the pallu is brought to the front from the back, from both sides. To add a classic touch to this look, tie a bunch of keys to the pallu throw over the right shoulder. Choose a Benarasi silk or Katan silk saree in white and red.
Seedha Pallu
Originally from Gujarat, the seedha pallu is popular in the Western regions of India. Don a Tussar silk saree or Chanderi silk saree during one of the nine auspicious days of Navaratri during the traditional aarti or for Kanya Puja. This simple drape resembles a lehenga and the pallu is brought from the back to the front instead of the usual way. Sarees with heavy pallu and border work are best worn this way.
Classic Style
Adapted from the Nivi style of Andhra Pradesh, the classic style of draping the saree is seen all over the country. Considered one of the simplest ways to drape any saree, this style is popular during the festive time. Choose an elegant Dupion silk saree or Baluchari silk saree and drape it with thin pleats and a flowing pallu for your pandal hopping session or for the Navami aarti.
Lehenga Style
An important part of Navaratri is dancing! People gather in large numbers and perform Garba and dandiya, folk dances of Gujarat. The traditional attire for this dance is ghagra choli but you can easily choose your chiffon saree or georgette saree and drape it in the style of a lehenga by using it as an elaborate dupatta over matching blouse and skirt.
These festivals are the perfect time for people of all ages to dress up in traditional attire. Go all out and try out a completely different look with these traditional draping styles. Plan your outfit beforehand and choose the right accessories and makeup as per your look and dazzle the crowd. Be it Navaratri, Durga Puja or Diwali, have the best of time dressing up and having fun with your loved ones. Find and order the most gorgeous silk sarees and accessories to celebrate the festivals in style on www.indiansilkhouse.com.