Why wear Yellow sarees on Saraswati Puja?
By admin On January 18, 2018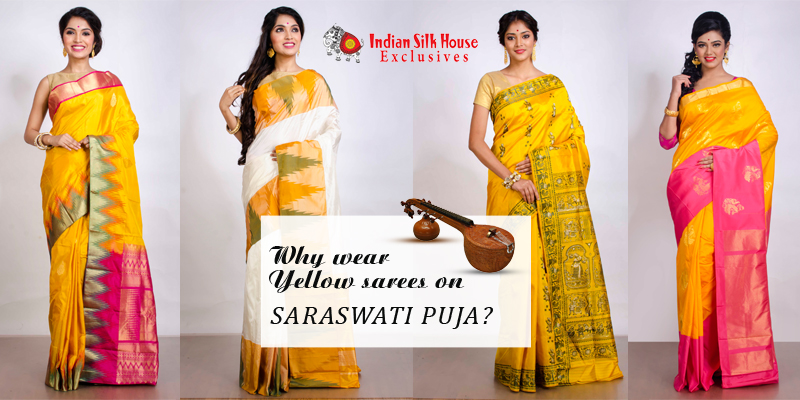 Basant Panchami is the next big festival. Every year, the girls (read mostly the students) wait for this day to come when they shall get the liberty to deck up themselves in their favorite yellow sarees.
Previously, little girls were draped in beautiful yellow sarees by their mothers. It was kind of an unsaid norm where you must adorn yourself in the bright yellow hued sarees and attend your school programs. However things are changing. With the change in the fashion trend, girls are mostly seen in a variety of designer sarees.
Love for Saraswati Puja Sarees
Devi Saraswati is the goddess of wisdom, knowledge and education. On this day, every student offers his or her prayers to the deity. While the mornings are limited to offering prayers to the goddess, the rest of the day is reserved for friends. Those who do not get the opportunity or time to wear sarees on other days of the year (apart from the Durga Puja Festival) get pretty much excited as they will soon be wearing their favorite Saraswati Puja sarees in yellow. In fact, the words Saraswati Puja and sarees go hand in hand. Girls (especially Bengalese) cannot even imagine themselves not draping their favorite yellow sarees on the auspicious occasion of Saraswati Puja.
Also known for being the Valentine's Day for all the Bengalese, Saraswati Puja is the perfect day to celebrate companionship and love for sarees. Pretty ladies are seen wearing their favorite traditional sarees and roaming around with friends (mostly classmates). It calls for a great visual treat. The City of Joy enjoys the reputation of being the epitome of celebrating a large array of cultural events, traditions, festivals and programs and Saraswati Puja is surely one of them.
Why wear Yellow sarees on Saraswati Puja?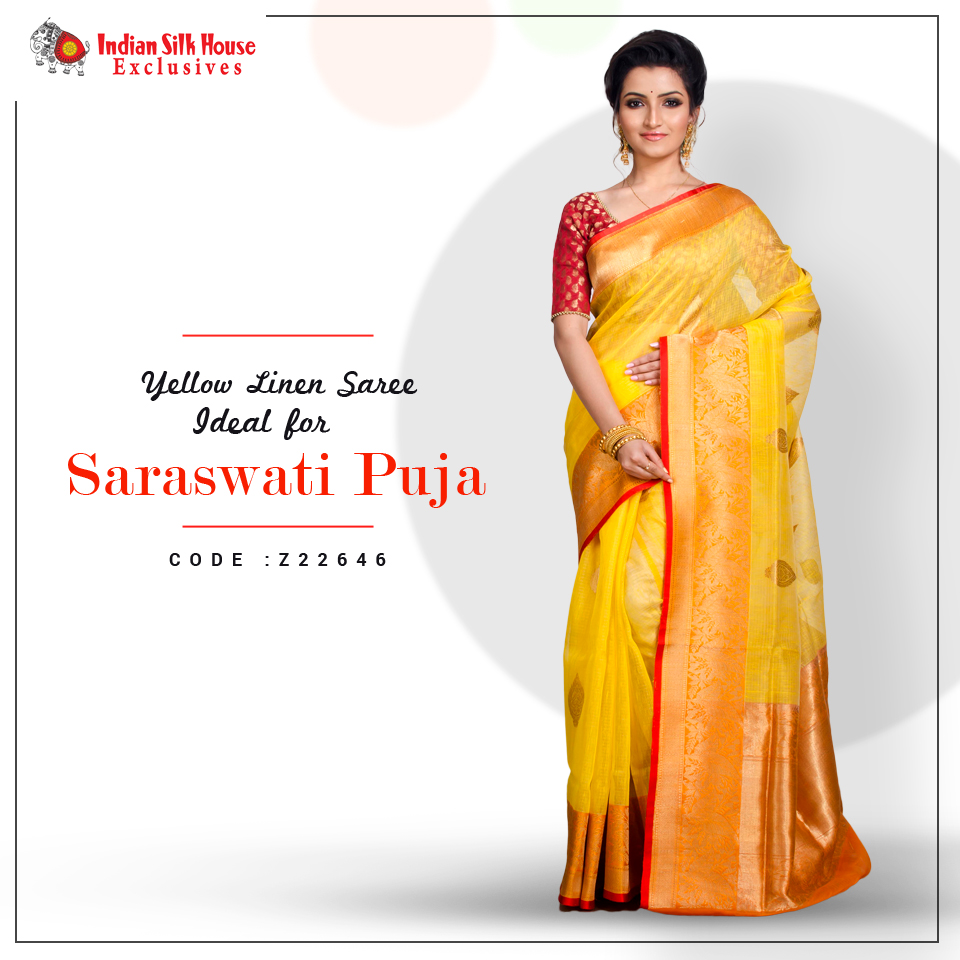 Saraswati Puja marks the arrival of spring where you will get to see beautiful blossoms all around. There must be an answer to all the confusion. Often people are seen doubting about the yellow colour? Why do they have to wear yellow hued dresses and not any other colours on this Puja in particular? The answer is quite reasonable. Yellow signifies the ripening of fruits and crops and it is also the dominant colour for spring. In North India, all the mustard field blossoms and looks lovelier. Moreover, the brightness of your lives gets beautifully reflected in this colour. Hence, it both looks and feels good to wear yellow on Saraswati Puja.
Perfect Place for buying yellow sarees for Saraswati Puja
Gone are the days when the school or college going girl were accompanied by their parents to the saree stores for buying the yellow sarees. Today, everything has become a lot easier with the arrival of online saree shopping trend. The fact that you can purchase yellow online sarees saves a lot of time and energy. Indian Silk House Exclusives is the perfect place to shop for your daughter's Saraswati Puja sarees.
Apart from offering exclusive bridal sarees, this Lake Road store is also eminent for letting people wear all kinds of traditional sarees and salwar suits throughout the year. What are you waiting for? Visit their online store i.e. www.indiansilkhouse.com and start purchasing your favorite Saraswati Puja saree.
4 responses to "Why wear Yellow sarees on Saraswati Puja?"