Your saree shouldn't age- Tips to preserve your sarees
By admin On March 29, 2019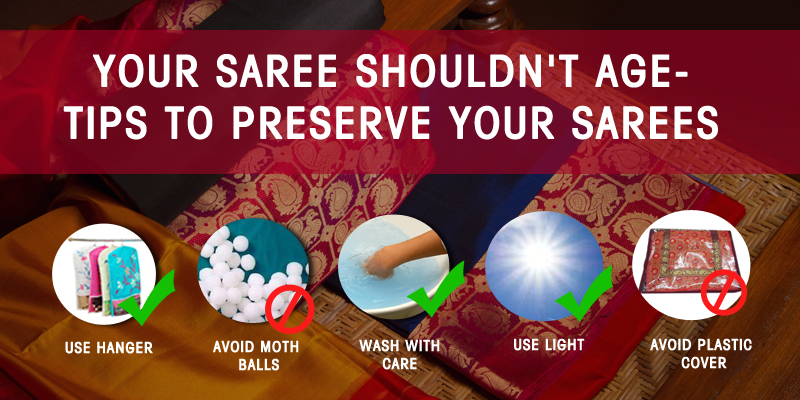 Saree is love. Literally, Indian women go absolutely crazy for their graceful six yards. And why shouldn't they? Available in a hundred designs, prints, shades and textures, sarees are the best attire a woman can drape to look amazing. Every saree loving woman intends to buy more and more sarees all the time. Every season, the market gets filled up with the latest designs and this fact is tempting enough to spruce up the mood of every saree shopper.
The only thing to consider here is maintenance. If the sarees are not maintained properly, then it gets pretty much difficult to retain their original beauty. It is not about stacking up the closet with the best of all sarees, but to keep them so beautifully that they can exude the same aura even after 50 years. Saree is an heirloom product that can be passed on to the next generation with ease. Hence, it gets really important to take good care of these precious possessions to prevent your sarees from ageing by following these steps.
Identify your saree enemies:
Winning the battle gets ten times easier once you have identified your opponents. In this case, your two enemies would be light and dust particles. You ought to protect your precious sarees from these two elements. How to do that? Simple, just wrap your sarees in a smooth cotton cloth and you are done. Do not keep your sarees in direct sunlight to get rid of moths. That can discolor your favorite saree.
Do not store your sarees in plastic covers. Remember, the materials need to breathe adequately so that they retain their beauty for ages.
A dose of fresh air will do the magic
Sarees are made of fine fabric and it is important that you take them out for some fresh air. Put them at a shady place for a few hours and they will feel fresh and amazing from within.
Hang your silk sarees in your closet to avoid creases and wrinkles. Metal hangers can react with the silk and can cause stains. Try to use plastic hangers.
Naphthalene balls are a strict no.
Never use Naphthalene or the likes in your wardrobe where sarees are kept. Instead use natural things like a small bundle of Black Cumin tied in a cotton cloth. You must also protect your sarees from insects and the best way is by using camphor, dried chilies, dried Neem leaves that have anti-fungal properties.
A few fabrics like silks and zari work sarees should be dry cleaned only. Some cotton and viscose fabrics can be washed with care using mild detergent. Whenever there is any stain on any of your sarees never keep them back in your closet just like that for long. It is essential to either dry clean them or wash them so that they are stored fresh and clean for future use in your wardrobe.
Use these six tricks to keep worries at bay. The most important point is that your favorite sarees will last longer only when you wear them instead of keeping them stacked up in your closet. They get damaged or cut when they are kept in the same fold for a long time. Use them and they will continue making you look exquisite.